Screen capture from Detroit's new Medical Marijuana Caregiver Center Eligibility Search Engine
What happened? Five years ago, nobody would stop talking about the amount of vacant buildings in Detroit. All of a sudden, we have 1,000-foot poles to protect them from investors. It's all in this map, which must be dicked around with to be believed.
OK, it's not really a map of dispensaries. It's
an online map offered by the city
to show people where dispensaries may be located and where they may not be located. By name, it is called the "Medical Marijuana Caregiver Center Eligibility Search Engine." But it should be called the "Ineligibility Search Engine," given the way it 90 percent of Detroit seems to be covered in some sort of restrictive area inhospitable to dispensaries.
If anybody still entertains illusions that the dispensary zoning ordinance passed by Detroit City Council last year was about making sure the wild and wooly business of medical marijuana conforms to a few common-sense rules, this map is something you need to see. It shows that the overly broad provisions in the law leave very few places to consider opening a business. If you're shopping for the location for your dispensary, this map is like that tour from a real estate agent that suggests you're looking in the wrong neighborhood. You know the one. ("I'm so sorry. That's simply everything we have right now!")
We also hear that the online tool is flawed, and may not provide 100 percent accurate information (more on that later). Not exactly the most encouraging thing to hear when you're considering plunking down a significant amount of money applying for a license.
Legal observers know that dispensaries exist in a "gray area" — but it was the ordinance that insisted that dispensaries literally exist in gray areas: in the shadow of Zug Island, over by the toxic waste processing facility on Georgia Street, off the fright tracks of the rail yard east of Hamtramck, outside the imposing brick walls of the Chrysler plant. What's more, in a city like Detroit, where 1 in 4 households doesn't own a car and public transportation is lousy, how does this creation of "green ghettos" serve residents who need their medicine.
So much for the ranting: On to the comedy. Poking around on the map to find the dream location for your dispensary is more ridiculous than trying to find a home you can afford in Manhattan. Sure, if you wanted to build a dispensary from the ground up, you could have it go in almost anywhere. But let's look at some of the properties the map approves as A-OK.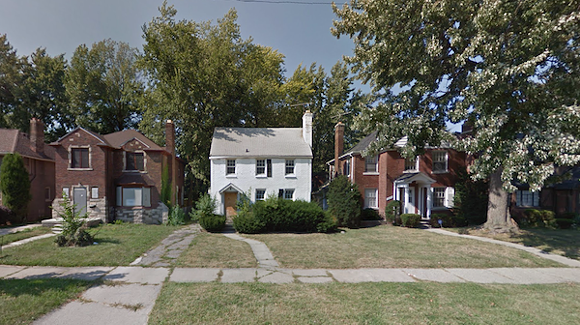 Google Maps Streetview image capture
Who will be the first TV reporter to go knocking on the doors of these addresses on the 16600 block of Chandler Park Drive, asking residents if they know a city map offers the chance to begin the process of turning the homes on their street into dispensaries with the click of a mouse? We're betting they'll be pleased as punch.
Google Maps Streetview image capture
Detroiters don't take the easy road, right? They're the pull-themselves-up-by-the-bootstraps types. That's why when Detroiters shop for dispensary sites, they don't want any white boxes all ready to go. No, they're ready to go the DIY route: And they want to do everything from digging a foundation to installing new water and sewer lines, just for a lot with 34 feet of frontage and on-street parking. That's why 12880 Blackstone St. is just the ticket.
Google Maps Streetview image capture
Remember the bad old days of when medical marijuana was illegal? In order to get their medicine, some unlucky patients had to head down to the end of the street to a little house where marijuana might be just one of the wares sold. With the advent of dispensaries, patients suddenly had access to a profusion of professional, safe, clean, modern facilities where they could buy their medicine. But this property, at 3254 Doris St., offers a bit of a throwback experience, all thanks to the restrictive dispensary zoning ordinance, which designates this property as "eligible to potentially locate a Medical Marijuana Caregiver Center."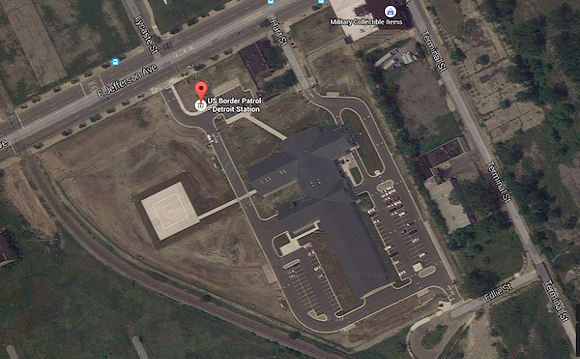 Google Satellite View image capture
Things aren't always what they seem — and we're not talking about when you see them through a haze of marijuana smoke. No, we're talking about when you're using Detroit's Medical Marijuana Caregiver Center Eligibility Search Engine! The engine says that these lots roughly bounded by East Jefferson Avenue and Terminal, Edie and Lycaste streets are open for business, just without streets or any other infrastructure. Looks like the city's up-to-the-minute tech tools haven't noticed that the U.S Border Patrol built its Detroit station there two years ago. It's enough to make you wonder what they're smoking, right?
Google Maps Streetview image capture
What a wonderful sight for a prospective business owner: Nine lots of city-owned property open for sale, with a structure (somewhat damaged) facing the beautiful, 20-foot-high brick wall of the auto factory. If you can get the city to sell you all of these lots on Warren Avenue between St. Jean and Benitau streets, you might have to hire a brush-hog crew to chop down the 40-foot vegetation dominating the site, but then you'll almost certainly have enough room for a really huge dispensary, one that can draw people from all over. Won't all that traffic, all that driving in and parking and driving away, simply delight the neighbors on Benitau Street? Here's a photo, below, of the homes of those lucky new neighbors.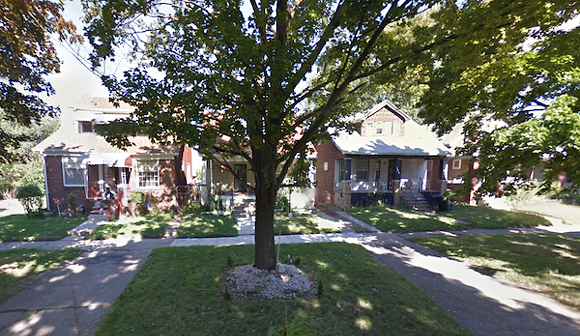 Google Maps Streetview image capture
Please be sure to post links to your favorite anomalies and oddities. There are certainly more where these came from.