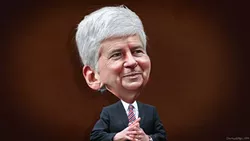 Last week Gov. Rick Snyder announced his
widely mocked
plan to drink filtered Flint tap water for 30 days. Something we here at
Metro Times
nicknamed the Governor's "30-Day Flint Challenge."
The plan was to drink solely Flint tap water for an entire month to show residents that the water was safe and that he cared about the people.
Snyder made the big announcement last Monday: "I completely understand why some Flint residents are hesitant to drink the water, and I am hopeful I can alleviate some of the skepticism and mistrust by putting words to action." He took three 1 gallon jugs of filtered Flint tap water home with him.
While some were skeptical of the "Challenge" considering the small amount of water Snyder took home (3 gallons of water, split between Snyder and his wife, who said she'd also partake, only amounts to 3/4 cups a day), the real skepticism should come with more recent news: On Saturday Snyder jetted off to Germany, Switzerland, and Italy for trade discussions.
Would the Flint water be coming along?
No.
"He pledged to drink it at home and at the office for at least 30 days, total," spokeswoman Anna Heaton told the
Detroit Free Press
. "Traveling with jugs of water overseas isn't feasible, but he'll resume drinking water from Flint upon his return."
We're not in the PR business, but we sort of get how this works. We imagine announcing a big plan to soothe fears of Flint residents and then backing out less than a week later is sort of, well, bad PR. Did the business trip just come up? Why was this trip not considered, or even mentioned, in the big splashy announcement of the "Challenge"?
While Heaton says the Governor will resume his big 30-day drink-off when he returns, the reality is the damage of a broken promise has already been done.