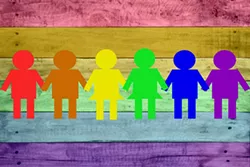 In the early morning hours of Sunday, June 12, the most deadly mass shooting in U.S. history took place inside gay nightclub Pulse in Orlando, Fla.
The shooter — identified by law enforcement as Omar Mateen, 29 — was killed early Sunday by police after opening fire with an assault rifle and handgun, leaving 50 dead and more than 50 injured, police said.
The sickening attack, of course, caused an uproar on social media. Those reactions included plenty of debate about Muslim immigration and gun control, but a good deal were simply reminders to hug loved ones, calls for healing prayer, and messages of acceptance and inclusion.
Below is just a small cross section of social media reactions that we gleaned from Facebook, Instagram, and Twitter.
"I'm sure I'll have a more eloquent response after I can comprehend what has happened, but for now ... That could have been me or you. That could have been my club, your club, our club. This will have a profound impact on the LGBTQ community. Our safety and safe zones have been ripped out from underneath our feet and torn from our grasp. We get one weekend a year to celebrate ourselves and the beautiful creations that we are and in the midst of that celebration, in one of our safety zones, has been a massive mass shooting.
I urge you brothers and sisters, especially my Christian ones, to tell your LGBTQ friends and family that you love them, but mostly that God loves them. Tell them this isn't an act of God and that their life matters. Tell them that they have a safe place with you. Because whether you realize it or not, that could be the only positive thing that person hears today and it could save many more lives that this event has threatened. Don't stay silent. We need our allies to take a stand. We need you now more than ever. May God's love and peace prevail. Kyrie Eleison. Christe Eleison. Kylie Eleison." - Sarah Leonard, via Facebook.
"The Spirit didn't allow me to speak yesterday, after Pulse. Not sure why, maybe to allow recovery, maybe to honor the dead, maybe just because there was not anything to say. But if there is anything to say, it might be this: If this is supposed to make me hate, I won't do it. I won't dehumanize. I need more humanity in my life, not less. Dehumanization brought us to this very non-isolated incident. Who knows what comes first? What is the origination of this heretical hate? But there is a common thread, called dehumanization, that moves today through so much of our world. Militarism, occupation, and unjust war helped bring us here. Legislatures and weak governors that have attacked LGBT bodies by denying us health care, interrupting our adoptions, isolating us from our families. The same politicians that treat black and brown bodies like commodities, sell them to charter schools and accept dollars for that work. It is the same dehumanization rooted in heresy. So, I refuse to hate. But don't be shocked when the Spirit, maybe through a brother or sister such as myself, holds a mirror up and reminds you of the common thread. The demon of dehumanization is strong, but the Spirit is stronger." - Matthew Bode, pastor at Spirit of Hope in Detroit, via Facebook.
"I don't believe things like this happen in a vacuum. I don't believe this is a case of a mentally ill person. I don't believe that this person woke up one day and decided to exercise his hatred. I believe hatred is cultivated. I believe that words and ideologies matter, so much so that they can create a level of hatred that leads someone to kill and violently harm those who are different from them. As I consider this time in history, I can't think about this tragedy that killed our queer family members and not think about the Charleston massacre or the assault on women's bodies or the dehumanization of black and brown people or police brutality. We have been living in a time when hatred has been insipidly cultivated and many of us are missing the connection between words, ideology, and violence. It's not enough for us to pray for Orlando. It's not enough for us to send positive thoughts. It's not enough for us to be sad in this moment. We have got to change how we talk, how we relate, and how we live out our beliefs. We have got to say that hatred in any form is unacceptable; that the life of another is inextricably linked to our own; that love conquers all; that our policies and procedures that make obtaining guns easy (assault rifles for crying out loud!) have got to change; and that anyone and anything that promotes fear and division is not of God and has got to be silenced and shut down. My heart hurts today, much like it does anytime a life is taken by someone who is being guided by hatred. I'm angry. I'm sad. But these emotions have to be the fuel that push me to love and love harder and love out loud.
Take care of yourselves my human family and let us take care of each other." - Rozella Haydee White, program director for young adult ministry for the Evangelical Lutheran Church in America, via Facebook.
"2016. Where the straight man is terrified of sharing a bathroom, and the gay man is terrified of being murdered. While it's been hard to really express my two cents about today's events without getting sick to my stomach, I feel this just about sums it up." — Zack Novicki, musical director at Unity Lutheran Church, via Facebook.
"Today let us grieve with the victims in Orlando. Tomorrow let's honor the victims by doing something to end gun violence. We've had nearly 150 mass shootings so far in 2016 — almost one a day. The deadliest mass shootings have one thing in common, the weapon of choice: assault rifles like the AR-15 used in Newtown and Orlando (and Aurora and San Bernardino). After Sandy Hook, we said we would never let it happen again. But there have been almost 1000 mass shootings since Sandy Hook. It doesn't have to be this way.
Let us pray. And let us also work to end gun violence. 'Faith without works is dead.' — James 2." — Shane Claiborne, via Facebook.