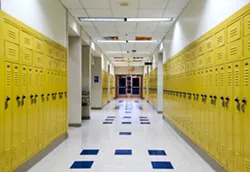 The National Labor Relations Board has issued a complaint (see below) against a charter management company that fired eight teachers in February without cause or notice, including several educators who spoke up at a board meeting weeks earlier about problems they were witnessing in their Detroit charter school.
On Feb. 12, Hamadeh Educational Services, a management company based in Livonia and running four local charter schools, fired eight teachers via email from Universal Academy, a K-12 charter on Detroit's west side. While the teachers were never told why they were let go — their termination letters simply reiterated that they were hired at-will and could be terminated "at any time, with or without cause, and with or without notice" — six of the eight who were fired attended a board meeting on Jan. 26, where they tried to draw attention to problems they believed were adversely affecting school culture and students.
The NLRB complaint alleges that the management company interfered with and violated the teachers' Section 7 rights — which guarantees employees "the right to self-organization, to form, join, or assist labor organizations, to bargain collectively through representatives of their own choosing, and to engage in concerted activities for the purpose of collective bargaining or other or other mutual aid or protection" — by, in addition to other things, referring to some teachers as "trouble employees," and interrogating them about their protected concerted activities (such as speaking up at the board meeting).
The complaint demands that the organization discontinue these practices in the future and also offer the fired teachers their positions back, as well as reimbursements for any lost wages or fees incurred in the job search process.
While none of the fired teachers have any intention of returning to the school, they have expressed appreciation towards the fact that the management company is being held accountable and that such practices will not only no longer be tolerated at Universal Academy — but ideally at other schools across the country as well.
"We're thrilled that the NLRB has upheld our rights as employees and more importantly, has sent a clear legal message to the Hamadeh leadership," Asil Yassine, one of the fired teachers tells
MT.


"We realize, however, that we are not alone and that there are teachers elsewhere who may be scratching their heads wondering what their rights are. Thanks to this victory, our message to teachers is this: Fear not and fight on. You should confidently and freely continue to advocate for your kids. It's the right thing to do, and US law will protect you."
The complaint issued by the NLRB follows a complaint filed by Michigan- ACTS. In March, a month after the terminations, the charter-organizing arm of the American Federation of Teachers-Michigan filed charges against the Universal Academy and Hamadeh Educational Services alleging that the school and management company fired the teachers "because of their union and protected concerted activities" such as the January board meeting where they spoke up with concerns (ACTS ended up dropping the charges against the school).
The management company has until August 10 to file answers to the NLRB's complaint, if Hamadeh does not settle the matter the NLRB will hold a hearing on Sept. 28.
When asked about the complaint, President and CEO of Hamadeh Educational Services Nawal Hamadeh stated, "Hamadeh Education Services (HES) strives to maintain a positive work environment for all its teachers in support of its mission to provide quality education for students. HES has not discriminated against employees, and will defend the pending complaint consistent with the NLRB procedures. HES is confident that the charge has no merit."
To read more about Hamadeh Educational Services, the firing of the eight teachers and the chaos that ensued after their termination please read our April cover story
Begging for Answers.