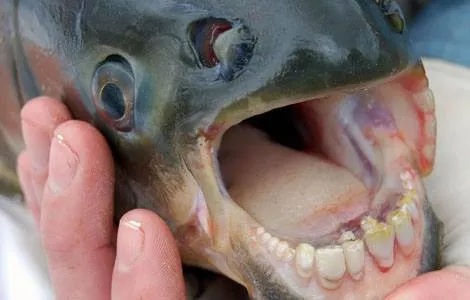 NOPE NOPE NOPE NOPE NOPE | Photo/Wikipedia
Sometimes we see things in nature and our immediate response is NOPE.
That's definitely the case with some recent catches from Lake St. Clair and Lake Huron.
According to the
Michigan Department of Natural Resources
, fisherman caught three of the red-bellied pacu, a close relative of piranha that's commonly found in the Amazon basin, during the month of July.
Why? Well, the DNR said it's because people like to own these little guys as pets, and don't realize that these kind of fish "can easily outgrow the majority of home aquaria: they are strong and robust fish which need a lot of swimming space and make very heavy demands of the filtration system."
(Which they could easily learn via Wikipedia like we just did.)
And it appears that the misguided aquatic animal collectors simply dumped the fish into the lakes because hey, what could go wrong?
"Pet release is almost never humane. Pets released from confined, artificial environments are poorly equipped to fend off predators and may be unable to successfully forage for food or find shelter," said Nick Popoff, manager of the DNR's Aquatic Species and Regulatory Affairs Unit.
"Those that do succeed in the wild can spread exotic diseases to native animals. In the worst-case scenario, released animals can thrive and reproduce, upsetting natural ecosystems to the degree that these former pets become invasive species."
Grrreat.
According to the DNR, the U.S. leads the world in importing ornamental fish, supporting a worldwide aquarium industry that tops $1 billion annually.
The DNR wants owners of ornamental fish to know that it's actually illegal to dump fish in state waters without a permit, and that if they want to do a return-t0-sender, they should contact a veterinarian or a pet store.
And if you happen to capture an unusual fish while you're out frolicking on Michigan's Great Lakes, the DNR says keep it and preserve it on ice or take photos — don't place it back in the water. Then, contact Seth Herbst, a DNR aquatic invasive species biologist, at 517-284-5841 or herbsts@michigan.gov for help in identification.