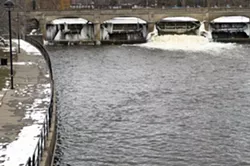 Shutterstock
The Flint River.
Here's a news flash that only confirms what people in communities such as Flint already knew to be true:
When it comes to protecting the victims of environmental injustice, the U.S. Environmental Protection Agency is close to worthless.
That's the conclusion reached in a new report released in late September by the United State Commission on Civil Rights.
This is what the report's authors had to say:
"EPA's Office of Civil Rights has never made a formal finding of discrimination and has never denied or withdrawn financial assistance from a recipient in its entire history, and has no mandate to demand accountability within the EPA."
Environmental justice, as defined by the EPA, is "the fair treatment and meaningful involvement of all people regardless of race, color, national origin, or income with respect to the development, implementation, and enforcement of environmental laws, regulations, and policies." A 1994 executive order signed by President Bill Clinton mandated that the U.S. government make the issue a priority.
As reported by the Center for Public Integrity, the nonprofit news organization whose groundbreaking reporting was cited in the report, Civil Rights Commissioner Michael Yaki made clear in a teleconference just how far short of its mandate the EPA had fallen when it comes to protecting the rights of people of color over the 22 years since Clinton's order was issued.
"Environmental justice is an issue that, one would think, we would have made much more progress on since this has been around for more than a generation," Yaki said following the release of the report in late September. "Much ado was made about EPA putting into effect an environmental justice component into what it did. If anything, this report shows that, as it applies to EPA — which has done many great things over the years — in this particular instance, it has fallen very short. One can say it is practically toothless in its ability to protect the poorest and minority populations of our country from things such as coal ash."
Or from lead-contaminated water.
Once again, Flint is cast in the unfortunate role of being a poster child from the problem.
"This report, in the wake of the mass lead poisoning of residents of Flint, Michigan, is especially timely. Environmental justice, in practice, has brought little in the way of environmental benefits or legal justice to communities that continue to suffer from the toxic and other health impacts of deliberate policies that have created a swath of destruction through poor and minority populations."
It shouldn't be forgotten that, despite the federal government's egregious lack of action in Flint – and a disturbing EPA email that has one official saying, "I'm not so sure Flint is the community we want to go out on a limb for" — Gov. Rick Snyder's own task force laid direct blame for the lead crisis on the state's Department of Environmental Quality and Michigan's emergency manager law.
That said, the failure of the EPA to address issues of environmental racism for more than two decades, under both Democratic and Republican administrations, is scandalous.
Weighing in on the issue, Atlantic magazine noted:
"In short, not only has the EPA been slow and ineffectual in resolving environmental justice concerns in vulnerable communities as dictated by the Civil Rights Act and Clinton's executive order; it has also passed rules that are perhaps themselves environmentally unjust. Federal environmental protection, for now, still seems to be a privilege of class and race."


Curt Guyette is an investigative reporter for the ACLU of Michigan. The ACLU's documentary about the lead contamination of Flint's water supply, "Here's to Flint," can be viewed here.