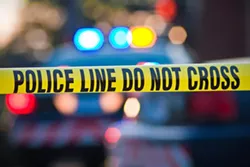 Updated at 10:01 p.m., Tuesday, Nov 22:
UPDATE: Detroit policed named Deangelo Davis as a
person of intrust
. At 9:45 p.m. the suspect was taken into custody. Authorities said that the officer's gun was missing but has since been recovered. He was found at Trumbull and Selden.
A Wayne State police officer was shot this evening about a mile west of campus,
many sources are reporting
.
Witnesses say that three shots were fired at Brainard and Lincoln near W. Grand River and Martin Luther King. around 6:45 p.m.
The officer is currently in surgery tonight while many other agencies are searching for the shooter who is still at large. A helicopter has been searching all over the area for the man who is described as a black male, has some facial hair, in his late 40's, and wearing a skull cap.
The woan who manager an apartment near the scene of the shooting told the
Free Press
that she had words with the man who was on the bicycle, who did't live there, and called 911 when he wouldn't leave.