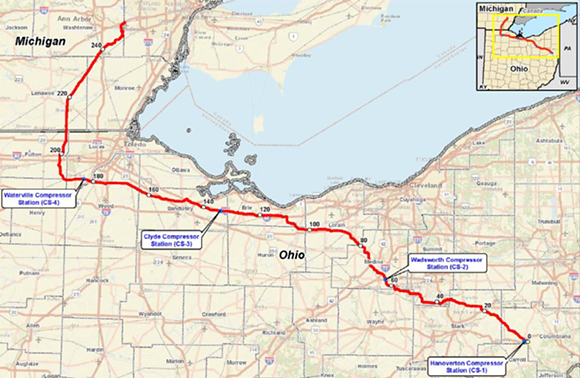 FERC
FERCThe NEXUS pipeline route.
Updated 9:47 p.m.:
An earlier version of this article said FERC approved the pipeline project. They have only approved the environmental impact. The final deadline to approve the pipeline is February 28, 2017, after which a certificate of construction would be issued.
Originally posted:
On Wednesday, the Federal Energy Regulatory Commission approved the NEXUS pipeline project, which would run from northeast Ohio through southeast Michigan and to Ontario — despite the fact that FERC acknowledged that the pipeline would "result in some adverse environmental impacts," according to its
541-page environmental report
.
The project includes 256.6 miles of new 36-inch pipeline that would move natural gas fracked from southern and eastern Ohio. 46.8 miles of the pipeline would run through Michigan, including Washtenaw, Monroe, and Lenawee counties.
According to the report, "FERC staff determined that construction and operation of the Projects would result in some adverse environmental impacts, but impacts would be reduced to less-than-significant levels with the implementation of ... proposed mitigation measures and the FERC staff's recommendations."
The final deadline to approve of the pipeline is February 28, 2017, after which a certificate of construction would be issued. But it seems like the project is a go even before official approval. Surveyors were already preparing for construction earlier this week — with some entering private property in northeast Ohio
accompanied by armed officers from the county sheriff's office
.
"Spectra Energy is all about timelines," Jon Strong, a Medina County, Ohio resident and an organizer of the Coalition to Reroute NEXUS, told
Metro Times
sister paper,
the Cleveland Scene
. "They're trying to do everything they can to short-cycle to when they can start digging and putting pipe in the ground. On their side of the fence, it's 'We need to get all our surveys done, come hell or high water, as soon as possible.'"
Safety concerns remain high for pipeline opponents. On Tuesday, a pipeline
exploded outside Kansas City
, and last month, a pipeline
exploded in Alabama
, killing one person and injuring others. In Michigan, a pipeline carrying heavy crude oil
ruptured near Marshall
in 2010 — the largest inland oil spill in U.S. history.
Strong tells the
Scene
his organization and others in the area plan to fight the pipeline in their communities. "We're just holding them off," he says. "Number one: Do it the way it's intended to work, the [survey] process. Don't cheat. Number two: The longer we put it off, the more time we get for other variables to come affect this process. There are serious industry insiders now starting to question the need for all this pipeline taking away capacity. We're overbuilding the infrastructure."
Construction is slated to begin in spring 2017, pending final approval.