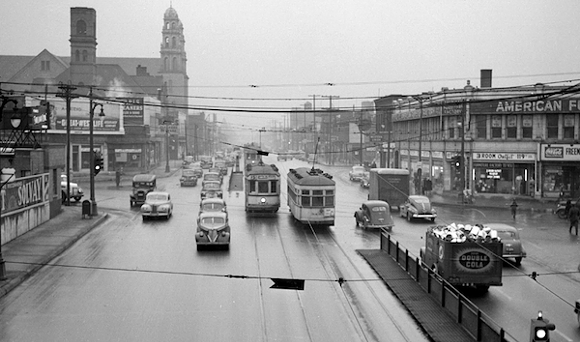 Detroit News Collection, Walter P. Reuther Library, Wayne State University
Streetcars ply Grand River Avenue in this view from Dec. 1, 1942
As Detroit gets prepared to see the first streetcars run on Woodward Avenue in 60 years, it's worth looking back to peer into the era that saw the city's Department of Street Railways (DSR) turn into the bus-only DDOT.
A key figure in that transformation would be Fred Nolan, head of the DSR back in the 1930s. Nolan was instrumental in turning Detroit's rail-based transit system into a bus-based system.
Right up front, it's important to point out that Detroit's transformation from rail to bus has almost nothing to do with the National City Lines case, in which a subsidiary funded by General Motors, Firestone Tire, Standard Oil of California and Phillips Petroleum bought up local transit systems throughout the United States and switched them to bus lines. Those companies were private; Detroit's system was public.
But Detroit's public system was headed by the bus-loving Nolan, whose enthusiasm for buses may look quaint today, as we're struggling to rebuild our rail-based transportation. But it's important to remember that buses were futuristic in the 1930s, and bitter fights over fares with the private streetcar companies were still a recent memory in Detroit, before they were bought by the city and publicly run.
Many transit historians seem to agree that the DSR's bus push made sense in the early to mid-1930s. Not everything needed to be a light rail line, and buses were likely well-suited to many of the low-density routes Nolan established in the increasingly suburban Detroit. Some bus lines extended the reach of rail lines, without the added cost of laying rails and safety zones.
Of course, buses wear out much more quickly than rail, and carry fewer passengers on a bumpier ride. But Nolan was a man on a mission. In an article from 80 years ago, Dec. 4 1936, we found Nolan happily talking up his buses, which saw an increase in ridership due to — adding more buses. In the next two years, Nolan's DSR would convert five lines — Myrtle, Van Dyke, West Jefferson, Depot, and East Lafayette — to bus lines.
According to Detroit transit historians
, that was the year Nolan began his campaign "to convert the Detroit operation to all buses by 1953." (The end actually came three years later, slowed down by World War II, when the city needed high-capacity, reliable streetcars to transport hundreds of thousands of war workers, while rubber and gasoline were strictly rationed.)
Of course, this summer, we discovered a trove of letters at the Burton Historical Collection dating from the 1940s, written by average citizens to Detroit Mayor Edward J. Jeffries Jr. (It's the same trove in which we found
letters from racist white Detroiters opposed to integration
.) We were especially interested by a cache of letters from Detroiters worried about losing streetcar service, especially on the major Grand River line, and opposed to Nolan's tendency to switch streetcar lines to bus lines. Shortly after his swearing-in on Jan. 2, 1940, Jeffries was bombarded with letters.
One of the main complaints was that while Nolan was busy buying buses to replace streetcar lines, streetcar service was suffering. One rather witty correspondent writes DSR Commission President Samuel T. Gilbert (with a copy to Mayor Jeffries) on Jan. 24, 1940, that "… A study of all lines entering the downtown section of the city will show that they are now overloaded (shippers of live stock are not permitted by law to so load stock cars) as the public is very well aware. This is the greatest factor that creates private car driving. I believe the department must first place more service on these lines, build up public confidence which in turn will slowly increase the turnover back to the transportation lines."
Or take a look at this doozy, from the same day:
Courtesy the Burton Historical Collection, Detroit Public Library
Jan. 24, 1940 12342 Kentucky Ave., Detroit To Mayor Jeffries: Thanks be to the gods that we have a sane leader at last. Now, for Pete's sake, after we have voted for you, try and do something at last with the DSR system and please give us back the street cars. They are quicker, safer, and more comfortable. No wonder the people all want their own cars (automobiles) can't stand the racket of buses. If they take the street cars off Grand River, there will be more accidents than ever before. … Take a run one night during the rush hour, Mr. Mayor, then you will see what we residents out here are up against. We know. Then you will have more street cars put back where they belong instead of being tied up in the car barns. Here's hoping.
The objection of this letter writer wasn't so much that the system made use of buses, but that it was a system out of balance, which meant jammed streetcars forcing customers onto buses. (Of course, for Nolan such trends presented another opportunity to crow about "increasing bus ridership.")
Courtesy the Burton Historical Collection, Detroit Public Library
Dear sir: Why don't they charge seven-cent fare with free transfers and give us decent service on the street cars. They boast of the cheap fare — well, I can get a shoddy suit for ten dollars too, and that's what we are getting on the cars: shoddy service.A great many are forced to the buses on account of the poor car service, and even at that, there are more street car riders in November than on the buses according to their own report. Nolan seems to be crazy about buses, but he would make more friends for the company if he would use a little sense, as it is now there is very little favorable comment about the whole service because it isn't balanced. We need both street cars and buses and most of all we need service without the disgraceful crowding that now seems to be the rule.
Here's a standout letter: utterly non-confrontational, written by an elderly man who wanted the mayor to keep streetcars on Grand River.
Courtesy the Burton Historical Collection, Detroit Public Library
Dear Mr. Mayor, By the way of an introduction, may I say that I am a retired railroad man — 82 years of age. I built my home at 2985 Wreford Ave in 1905 — 35 years ago. I have always paid my taxes promptly, patronize the street cars in preference to the buses, about 1 year ago we were given opportunity to express our choice of kind of service on Grand River Ave. This survey resulted in favor of retaining the street cars, and I am pleased to read in the Detroit News of 24th issue that you will have the streetcars remain in operation on Grand River. I go to my son's home two or three times each week (16210 Rosemont Rd. ...) also go downtown at least once each week, I prefer patronize the street cars, entirely so. Thank you Mr. Mayor. Sincerely yours, Robert L. Thomas 2985 Wreford Ave.
Other letters were more direct, as was this anonymous but friendly note: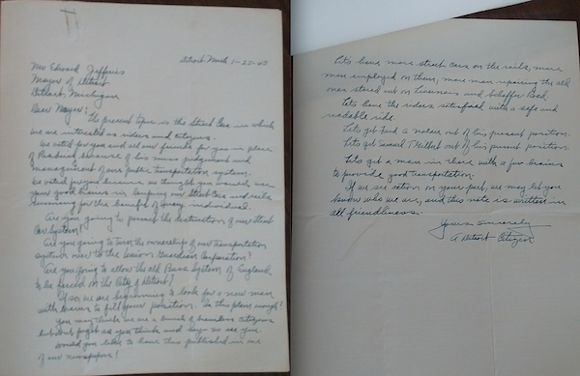 Courtesy the Burton Historical Collection, Detroit Public Library
Dear Mayor: The present topic is the street cars in which we are interested as riders and citizens. We voted for you and all our friends for you in place of Reading because of his misjudgment and -management of our public transportation system. We voted for you because we thought you would use your good brains in keeping our street cars and rails running for the benefit of every individual. Are you going to permit the destruction of our streetcar system? … Are you going to allow the old bus system of England to be forced on the City of Detroit? If so, we are beginning to look for a new man with brains to fill your position. Is this plain enough? You may think we are a bunch of brainless citizens but don't forget as you think and say — so are you. Would you like to have this published in one of our newspapers? Let's have more street cars on the rails, more men employed on them, more men repairing the old ones stored out on Livernois and Schaffer Road. Let's have the riders satisfied … Let's get Fred A. Nolan out of his present position. Let's get Samuel T. Gilbert out of his present position. Let's get a man in there with a few brains to provide good transportation. If we see action on your part, we may let you know who we are, and this note is written in all friendliness. Yours Sincerely, A Detroit Citizen
Or look at this Sept. letter from "Wm. F. Andricks, 11042 Cloverlawn, Andricks Engineering & Manufacturing Co." He complain about the lack up upkeep on the streetcars, transfers from bus to bus, and his impending switch to driving his personal car.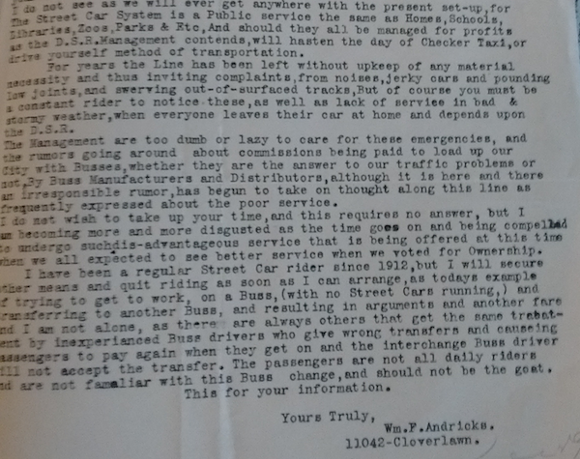 ssssd
Dear Sir:…For years the line has been left without upkeep of any material necessity and thus inviting complaints, from noises, jerky cars and pounding low joints, and swerving, out-of-surface tracks. But of course you must be a constant rider to notice these, as well as lack of service in bad and stormy weather, when everyone leaves their car at home and depends upon the DSR. The management are too dumb or lazy to care for these emergencies, and the rumors going around about commissions being paid to load up our city with buses, whether they are the answer to our traffic problems or not, by bus manufacturers and distributors, although it is here and there an irresponsible rumor, has begun to take on thought along this line as frequently expressed about the poor service. I do not wish to take up your time, and this requires no answer, but I am becoming more and more disgusted as the time goes on and being compelled to ungergo such disadvantageous service that is being offered at this time when we all expected to see better service when we voted for ownership. I have been a regular street car rider since 1912, but I will secure other means and quit riding as soon as I can arrange, as today's example of trying to get to work, on a bus (with no street cars running) and transferring to another bus, and resulting in arguments and another fare and I am not alone, as there are always others that get the same treatment by inexperienced bus drivers who give wrong transfers and causing passengers to pay again when they get on and the interchange bus driver will not accept the transfer. The passengers are not all daily riders and are not familiar with this bus change, and should not be the goat. This for your information. Yours Truly,Wm. F. Andricks
It's worth noting that the Grand River streetcar line, the subject of so much controversy in several of these letters, was the first major city streetcar line to be converted to buses, on May 5, 1947, one of four such conversions in that year.
Another writer, Mrs. Mabel Baker of 18699 Buffalo St., seems to be at the end of her patience. She says bus accidents are bound to happen the way the vehicles are crammed.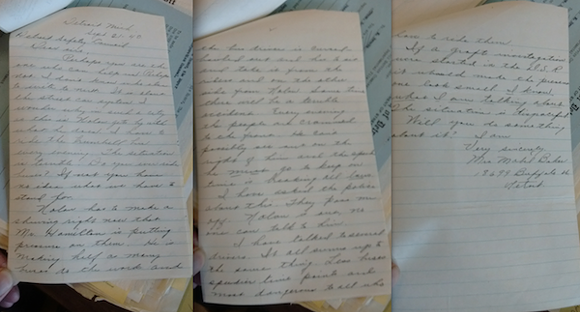 Courtesy the Burton Historical Collection, Detroit Public Library
Sept. 21, 1940 Detroit Safety Council: Dear Sirs, Perhaps you are the one who can help us. Perhaps not. I don't know who else to write to next. It is about the street car system. I wonder why in such a city as this is Nolan gets by with what he does. I have to ride the Trumbull bus every evening. The situation is terrible. Do you ever ride buses? If not you have no idea what we have to stand for. Nolan has to make a showing right now that Mr. Hamilton is putting pressure on them. He is making half as many buses do the work and the bus driver is cursed — bawled out and has to sit and take it from the rider and on the other side from Nolan. Some time there will be a terrible accident. Every evening the people are crammed to the front. He can't possibly see on the right of him and the speed he must go to keep on time is breaking all laws.I have asked the police about this. They pass me off. Nolan is out, no one can talk to him. I have talked to several drivers. It all sums up to the same thing. Less buses spending time points and most dangerous to all who have to ride them. If a graft investigation were started in the DSR it would make the present one look small. I know what I am talking about. The situation is disgraceful. Will you do something about it? I am Very Sincerely
These letters aren't the only testament to Detroiters' preferences for rail-based transit. In
our story marking the 50th anniversary of the last streetcar to roll down Woodward Avenue
in April 1956, we noted, "A newspaper poll showed that Detroiters, by a margin of 3-to-1, opposed the switch to buses."
We shared this trove of letters with a streetcar aficionado friend, and he saw something completely different in these letters. He said, "They tell the story of a very early pro-bus advocate [who] was years ahead of his time in advocating such a plan."
It's funny the way two different people can look at a set of documents and find them valuable for such different reasons. Because what we see in these letters is evidence of a stubborn streak in Detroit's ruling technocrats. It's almost as if the motto of Detroit leaders should be "the people be damned, we're going to press ahead with our plans, thank you very much."
Also, streetcars were the system the city was built around, its circulatory system, its way of moving people in and around the city in large numbers. The rail in the ground was proof that the systems would continue on that route — something transit experts today note can attract transit-oriented development. Take away a city's chief circulatory system and you can expect it to wither and suffer for lack of it.
But what if Detroit had done as Detroiters wanted and kept its beloved streetcars? If it causes you to wonder what else might have been, you're only human. Would disinvestment have fallen as far? Might those lines have been extended into the suburbs to unite the region with a rail system? Would downtown have remained the focal point it was when light rail lines converged there?
Who knows? One thing we can say is that the ghost of Fred A. Nolan lives on. In the recently defeated RTA proposal, we were asked not whether we'd like to have a rapid transit system of light rail vehicles running on dedicated rights of way. No,
we were asked if we wanted a new system of buses
.
Some things change. But some things just stay the same, don't they?