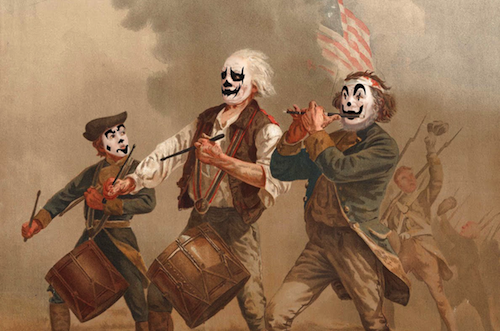 Derangment of Archibald Willard's "Spirit of '76" by Haimanti Germain
In 2017, Washington, D.C., is going to be full of hallucinatory spectacle thanks to the incoming Trump presidency. That's a cinch. But at least some of the capital's colorfulness this fall will come from underground hip-hop artists and pop culture icons Insane Clown Posse, who have announced a Juggalo March on Washington to be held at noon Sept. 13 at the National Mall.
The Juggalos — aka "the family" — are used to national conventions. Many thousands are drawn to the carnival-like annual Gathering of the Juggalos, where crowds painted with clown face paint engage in a Faygo-soaked celebration of the horrorcore rap of recording artists on the Psychopathic Records label.
But September's Juggalo March is political in nature.
The legal battle was the subject of a
Metro Times cover feature
by Brett Callwood two years ago.
In making their case, ICP and Psychopathic Records have brought together people who claim they've been unfairly discriminated against as a result of the FBI categorization: police harassment and profiling, job termination, being disqualified for military service, losing custody of children, and other various infringements of civil rights, simply for identifying as Juggalos.
And the Juggalo March on Washington should include speeches from Juggalos describing how the gang label has personally affected their lives, and the march's website has an archive of news reports about Juggalo discrimination, including the
MT
story by Callwood. The site aims to educate the public on the discrimination and serious legal consequences thousands of people across America face daily ... just for listening to a certain type of music.
Callwood, now a freelancer living in the Los Angeles area, says: "While, in the face of the forthcoming presidency, this is unlikely to be the greatest injustice the country faces in 2017, it is still an injustice, as the ACLU has stated. I'm happy if my story continues to help."
Want to learn more? Interested in attention? Have a look at juggalomarch.com, the official website for the event. For more information, see the
American Civil Liberties Union of Michigan's website on the Juggalo case
.
Derangment of Archibald Willard's "Spirit of '76" by Haimanti Germain