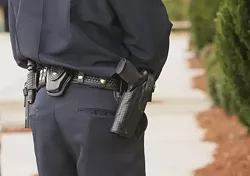 Photo courtesy Shutterstock
Steve Neavling of Motor City Muckraker is known for traveling all over Detroit like a one-man reporting squad, hunting for news. But sometimes it just falls in his lap.
Or, rather, his laptop: A few days ago, after posting a story to Facebook
about how many Detroit police don't live in the city
, a self-identified Detroit cop, Daniel Wolff, began, well ... sharing.
Wolff's remarks, allegedly posted to a Facebook page of Neavling's, included:
"Getting rid of residency was the best thing that ever happened to the Detroit Police!!!!! We have to police the garbage but you can't make us live in the garbage."
"This job is not the same job that it was. It's all videotaped and whatever. You can't walk up to a kid or asshole and smack him in the face like we did."
"Smacked them in the face?!!! I hit them with handcuffs in the head you democrat."
Wolff's comments became grist for another Motor City Muckraker piece about Wolff himself: "
Detroit cop calls city residents 'garbage,' brags about assaulting them
." (See the story if you'd like to see more of Wolff's inflammatory remarks.) The story was picked up by WJBK-TV and today made
The Detroit News
. It has even made
Raw Story
. The matter has been brought to the attention of Detroit Police Department Chief James Craig, who has promised that the incident will be investigated.
The Detroit Coalition Against Police Brutality called today for Wolff's immediate dismissal.
"Officer Wolff should be dismissed immediately," said Coalition spokesman Kenneth Reed. "We must have zero tolerance for those officers who openly cast aspersions on those whom they are called to protect and serve, no matter who they are."
The coalition added that it will be monitoring these actions.