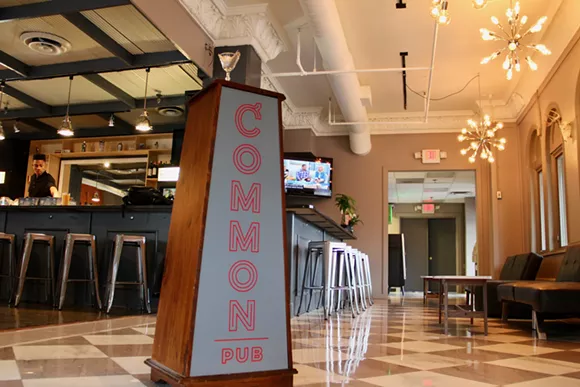 Photo by Ryan Patrick Hooper
When one bar door closes in Detroit's Cass Corridor, another one is sure to open. Lefty's Lounge closed its door this past August without much fanfare, taking its
2.4 star Yelp review
to the grave with it.
The replacement is the new Common Pub, which opened to the public Thursday after four months of renovations. Located on the first floor of the historic Belcrest apartments, it's a major upgrade for the heart of Wayne State University's campus. The new interior makes it tough to imagine a college sports bar once existed there, and the menu is miles away from its predecessor.
Opened by former co-workers turned business partners, executive chef Zach Stotz and bar manager Garrett Passiak are aiming to create a cozy corner bar atmosphere that's light on the pretensions of fine dining and big on classics done well. Sides and snacks range from $3 to $8; entrees from $5 to $22. Happy hour boasts a burger, fries and PBR for only $5.
"We're on a college campus, so it's important to cater to all walks of life," says Passiak. "The mayor can be sitting next to someone with $10 in their pocket who just wants a quick burger and beer."
Passiak has been a staple behind the bar everywhere from Honest John's to the high-end Ghostbar inside of the Whitney. Stotz has been a working chef in metro Detroit's culinary scene for years, a former executive chef at the now closed Atlas Global Bistro who was peer-selected for Best Chefs America in 2013. For both Stotz and Passiak, this is their first time owning a restaurant.
Photo by Ryan Patrick Hooper
As for the menu, one highlight is the duck fried chicken. Chef Stotz baths a Bell & Evans Amish chicken (available to order in half and full portions; $15 and $22) in a brown sugar brine before slow poaching it in duck fat for nearly three hours. Because the chicken is already fully cooked, it spends half the time in the fryer that traditional fried chicken would. The final result is light on grease and full of flavor. Sides of macaroni potato salad and housemade coleslaw offer a complement of acidity to the dish.
Other standouts include the untraditional take on a Nicoise salad ($15). Loaded with generous portions of house marinated tuna with a moroccan spice crust and citrus truffle vinaigrette, it's a full meal in its own right. The lamb and egg burrito combines lamb chorizo, roasted poblano relish, and white cheddar inside of house made naan bread wrap ($7).
The cocktail menu is heavy on classics with a twist like the standout Mezcal Negroni and Tully Old Fashion (made with Tullamore Dew and Turbinado cinnamon banana syrup). The wine program includes over a dozen wines, ranging from $5 to $13 a glass.
Currently open for dinner only, Common Pub will be expanding to lunch service in February. When the weather warms up, look out for poolside patio seating with monthly pool parties to match.
Common Pub is located at 5440 Cass Ave., Detroit. Hours are 4 p.m.-2 a.m. Tuesday-Saturday (kitchen open 4 p.m.-midnight). More information at 313-285-8849 and
facebook.com/CommonPubDetroit
.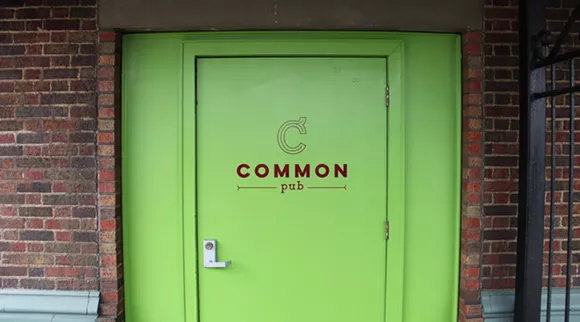 Photo by Ryan Patrick Hooper