It began with bacon and uterus-shaped pancakes.
Actually, that's not true. It began the night of the election, when I watched, along with a horrified voting majority, as the country was promised a harrowing assault on civil rights, women's rights, the environment, and freedom of speech. The "Million Women March" event appeared on Facebook even before the official call was made on the morning hours of Nov. 9.
When I woke up that raw, disorienting morning, my friend Colleen and I decided, unequivocally, that we were going to Washington, D.C. Since then, the name of the event name changed to the Women's March, I secured a place to stay with friends, and we set out on Friday, Jan. 20.
Now come the uterus pancakes. The morning of the march a small crowd of people bustled around my friend's tiny apartment and the vibe was decidedly excited as we quickly ate our anatomically-correct breakfast. We walked to the National Mall and descended into a sea of women in pink hats.
See also: The 25 best protest signs we saw during the Women's March on Lansing and Detroit
The speakers, which were located at the intersection of Third Street and Independence, might as well have been on Mars for how likely we were to get a glimpse, so we set our sights on getting within view of a jumbotron, which were set up on every block of the mall, but we quickly realized any goal we set would likely be thwarted by the immense crowd. Our little bursts of energy weaving past slow moving protesters made it impossible to get anywhere.
So, we slowed down. Once we finally stopped and looked around we were fully immersed in a crowd radiating camaraderie and celebration. The signs, a feast of creativity, sincerity, irony, and hilarity, were plentiful enough that the entire experience could have been spent sitting and reading passersby.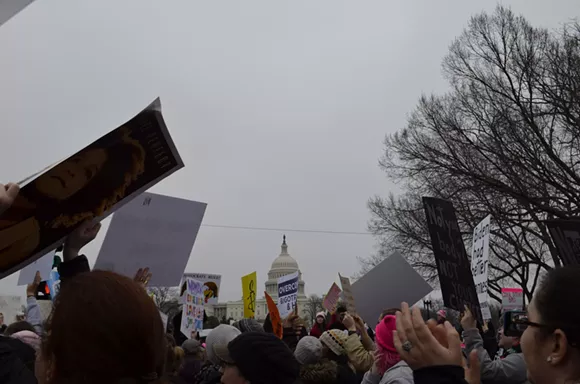 There were quotes from Susan B. Anthony and Joan Baez intermingling with assumptions of Trump's musical interests (Nickleback?), and puns — we particularly liked "You Cunt Touch This," — for miles. Some signs were short and simple like, "Facts Matter," there was the apt, "I am generally displeased," and the near-perfect poetry of "When they go low, we go high. Also, fuck you."
People in the crowd took it further than just bearing signs, their clothing also reflected their feelings and political leanings. The most obvious piece being the now-iconic pink pussy hats unifying the crowd visually while also conveying the type of heartfelt individuality present when things are homemade and all a little bit different. T-shirts bearing the words, "The Future Is Female" were tantamount to ubiquitous but by-and-large, march attendees seemed to treat the day as a personal project for expressing what feminism means to them. For some this meant collages of portraits of inspiring women, for others it was renderings of the female body and reproductive organs. For others still, it was a full face mask of a vagina with teeth. These were all present and applauded.
A focused band of 500,000, this march was a celebration of women, a calm, nonviolent, matter-of-fact statement that we weren't going back.
Nearer to the Capitol building the crowd grew denser and anticipation mounted. Cheers rose up like waves, and the chants were constant. Some of the most popular included "Tell me what democracy looks like, this is what democracy looks like!" "Whose streets? Our streets!" "We want a leader, not a creepy tweeter!" and "Small hands, no plans!"
The route traveled down two parallel streets, Independence Avenue and Constitution Avenue. On the Independence route, we passed the National Museum of the American Indian, the Smithsonian National Museum of African Art; past Bank of America and Trump Tower. As the march past the latter location the crowd chanted, "We will not go away, welcome to your first day!" But chanting wasn't limited to marchers. People also stopped on sidewalks to watch the protest. They egged on the call and answer chants so that the energy never dipped.
Somewhere in the middle of the route, cellphone service having been gone for hours, I realized how "in it" we were. I couldn't remember the last time I had been so unplugged, and had never been thus while smack in the middle of something so powerfully historic.
We wondered aloud what arial shots of the march might look like, and while we knew it would be epic, it would be hours before we'd get a glimpse at the masses the march had attracted. Until then, we were in our glorious, local slice of existence, where a drummer played along to women and men screaming sentiments of resistance.
I counted the number of Trump supporters on one hand: I spied a "Bikers for Trump" display from a distance, and a trailer with a large "TRUMP" banner zoomed past us while we rested at Starbucks. It carried a handful of people who gleefully flipped the crowd off. I wouldn't learn of the
President's toxic response
to what was happening until much later.
For me, and I suspect for many women both in America and around the world, the Women's March has catalyzed in me feelings of optimism and motivation. It provided a new context, a feeling that we aren't all that different, the good people are all still here. We're at the beginning of a long, difficult ride, but the march has fortified me for the fight.