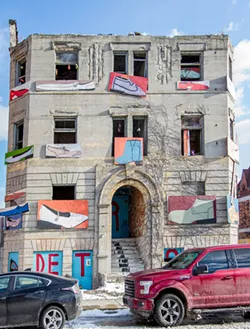 Courtesy photo
Midtown's "Giant Steps" building was sold last year.
While artist Tyree Guyton's
infamous Heidelberg Project
is located on Detroit's east side, for the past eight years his nonprofit's administrative offices (as well as his studio and personal residence) has been located in Midtown.
This month, the artist will move his headquarters to the Heidelberg Project. And before the move, Guyton is hosting an open studio and an art sale, where collectors will get a chance to buy some original Guyton artwork.
Called "Stepping Out," the farewell party is a reference to the office's abandoned next door neighbor, "Giant Steps" — a Heidelberg Project-like installation involving Guyton's paintings of shoes affixed to the exterior of the building.
When Guyton first moved to Midtown, the neighborhood was much different. Now, the upscale Grey Ghost restaurant is located across the street, and in December 2016, the "Giant Steps" building was sold. (According to a press release, the last available records show the property listed at $1.2 million.)
During the farewell event, Guyton will be selling the shoe paintings right off of the building. (We're told they will be "priced to move.")
"My hope is that the Midtown community will embrace and support our next step by purchasing one of the shoes," Guyton says in a statement. "My MO is to transform blight and decay into something magical and engaging. It was very moving for me to see so many people enjoying this installation."
On Friday, March 24, there will be an artist reception from 6 p.m. to 9 p.m. On Saturday, there will be an open studio and art sale from noon to 6 p.m. And on Sunday, there will be a closing party and disassembly from noon to 6 p.m.
The Heidelberg headquarters is located at 42 Watson St. between Woodward Avenue and John R Street.
Last year, Guyton announced that the 30-year-old Heidelberg Project
would be partially dismantled and consolidated
into a more permanent installation.