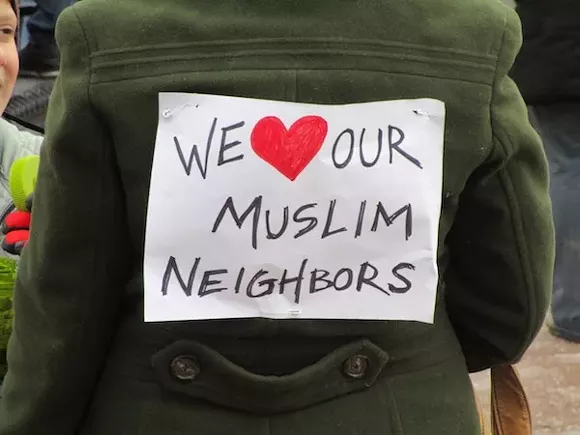 Scapegoating is one of the oldest political tricks in the book. When a government isn't delivering on what should be its main priority, which is ensuring the health, happiness, and prosperity of its people, some politicians are quick to say it isn't
their
fault: It's all of
those
people who are to blame!
Luckily, there are a lot of people who understand the way this scapegoating game is played, and they're organizing. For instance, community groups and Christian and Muslim societies based in Dearborn and Detroit have organized a march for this weekend.
It's called "Neighbors Building Bridges," and the goal is to raise awareness about "human rights, safety, and dignity for refugee and immigrant families." And, no doubt, a bunch of new interfaith friendships will come out of this sort of organizing, bringing with them a sense of solidarity that provides a bulwark against scapegoaters.

Curious? Want to get involved? The event begins at 3:30 p.m. Sunday, April 2, at St. Gabriel's Church, 8118 W. Vernor Hwy., Detroit, from which participants will march to the American Muslim Society, 9945 Dix Rd., Dearborn. The event ends with a reception at UAW Local 600 on Dix in Dearborn.