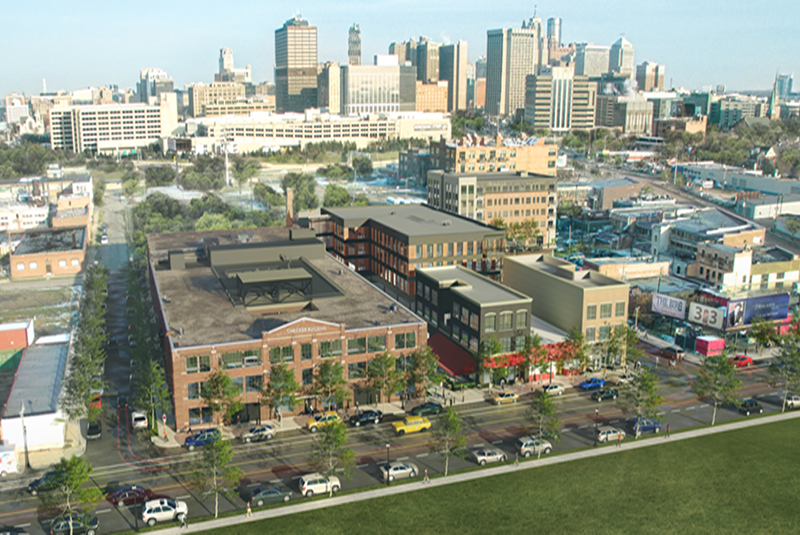 Van Dyke-Horn Public Relations
A rendering of the Elton Park development as seen from Trumbull Ave just north of Michigan Ave.
Detroit Mayor Mike Duggan and Detroit businessman Tony Soave have ushered in a new era for Corktown — one that will have a handful of blocks at the northeast corner of Michigan Avenue and Trumbull Avenue looking far more luxurious.
On Monday, the pair broke ground on what Soave's company, Soave Enterprises, is billing as Corktown's largest development in decades. It involves building hundreds of apartments and lofts that will, as per the renderings hung throughout the area, have Corktown bustling with even more young, affluent life.
The project has received $7 million in state financing from the Michigan Economic Development Corporation because it is considered a
community revitalization project
. A spokeswoman with Soave Enterprises says approximately 20 percent of Elton Park's residential units will be classified as affordable for people living at 80 percent of average median income, or AMI. AMI in the Detroit-Livonia-Warren area is about $53,000 for a family of four.
Phase one of the $45 million Elton Park project will span five blocks and be comprised of six buildings with about 150 rental units and 13,000 square feet of retail. But there's plenty more new construction to come: Developers say Elton Park will eventually boast
more than 400 residential units
and up to 30,000 square feet of retail space.
You may be saying to yourself, "But where over there is there room for that?!" Soave's team will be building upon parking lots and a few vacant plots of grass to make this happen. It will also rehab the old Checker Cab building.
Check out the Elton Park coming to the Corktown near you in the renderings below: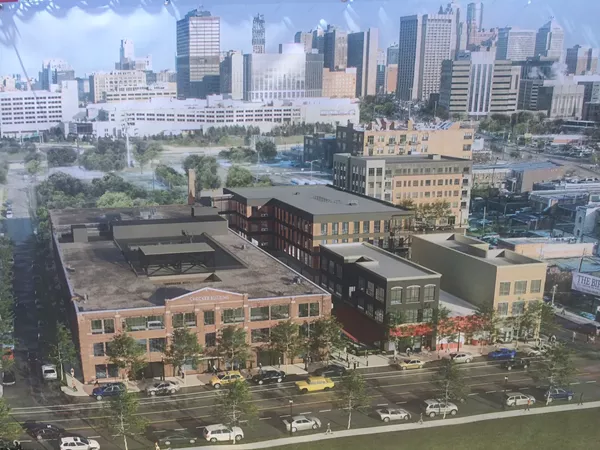 The future of Trumbull Avenue just north of Michigan Avenue. For reference, that small red thing near the corner is UFO Factory. Hopefully the venue's new neighbors are cool with loud music.
A street-level view of Trumbull just north of Michigan. The development includes a "greenway," and we think it's that walkable area next to the restaurant with outdoor seating.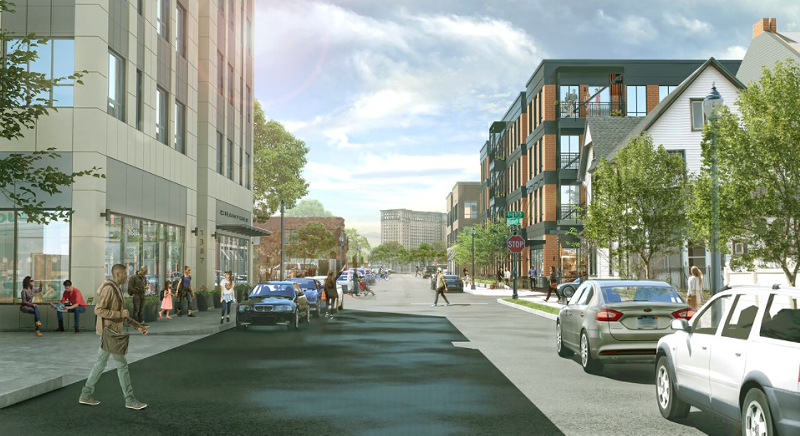 W. Elizabeth Street near 8th. That house on the right existed before the development and will be built around, making for a unique juxtaposition of architectural styles.
A night life image! We think that's 8th Street at W. Elizabeth.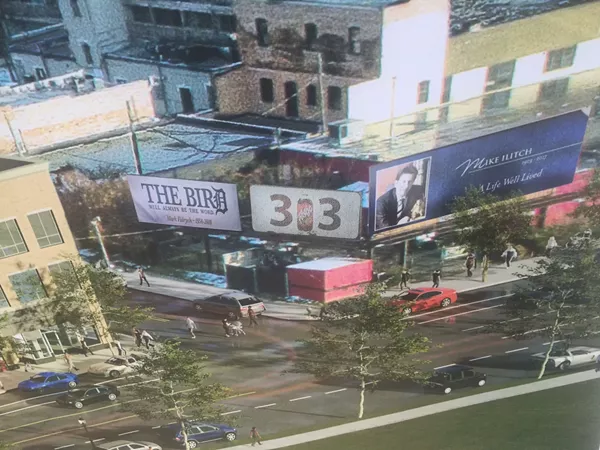 An homage to developer and pizza tycoon Mike Ilitch. We very much hope this billboard comes with the complete Elton Park package. Rest In Power, Mr. I.
This post was updated

at 10:48 a.m. on Monday, May 8

to reflect that the Elton Park development will include some affordable housing units.