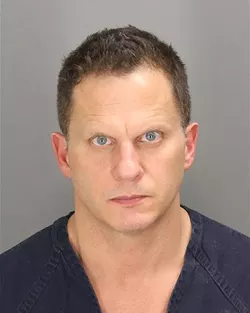 Oakland County Sheriff's Office
Oakland University professor Joseph Schiele
He was a professor teaching business at Oakland University, but officials say that off campus, Joseph Schiele was about partying. With students. And a white powder drug called Ketamine.
Schiele is charged with a variety of crimes, including delivery and manufacture of a controlled substance, multiple felony firearms charges, and maintaining a drug house.
Court transcripts sifted through by WDIV show a 22-year-old female college student said she visited the professor's home in Oakland Township "at least 30 times" for "partying," "drinking and doing drugs" ... "usually
cocaine and ketamine
." The woman said that she and other college students would "go up to [Schiele's] room and do ketamine" and break "out lines on the TV stand."
According to WDIV, a 19-year-old Oakland University student who told the court he visited professor Schiele's home multiple times said the professor gave him "alcohol, marijuana, ketamine."
Oakland County Sheriff Michael Bouchard offered his limited knowledge on the substance known to some as "Special K" in an interview with WDIV last month, calling it "a very potent drug." Said Bouchard: "Who knows what happens when someone is on this kind of drug. They lose control of some of their faculties, that is a concern."
Schiele is out on bond and on paid leave from O.U. He's said to have told reporters outside his pretrial hearing Monday that he's in a "
terrible situation
" and hopes "things will come to light in time."
The alleged partying professor will be back in court June 12.