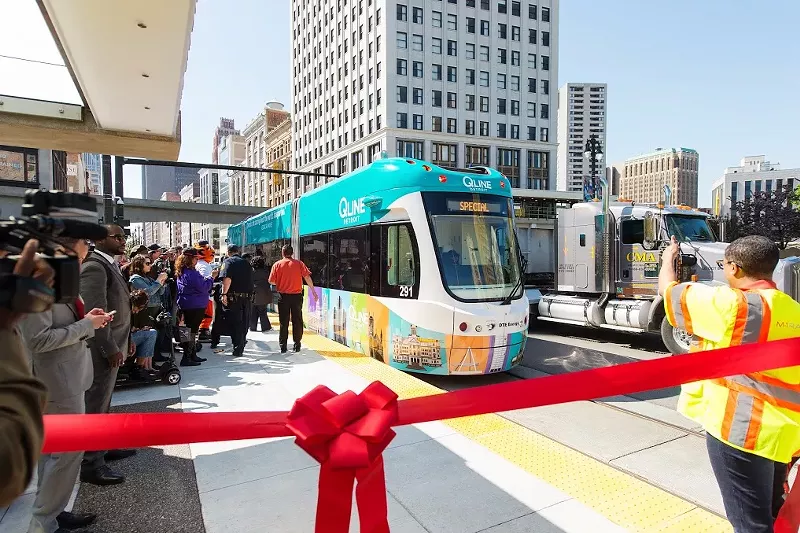 Courtesy M-1 Rail
The QLine makes its debut in Detroit on May 12.
QLine operator M-1 Rail announced today that Detroit's new streetcar will continue giving free rides through the month of June, with fare going into effect starting July 1. What started as a launch weekend promotion was extended to another week, and now an additional six weeks.
According to a statement from M-1 Rail, the promotion extension is due to popular demand: The nonprofit reported higher than expected ridership, averaging approximately 8,300 riders per day over the launch weekend and 5,120 per day during the week. In all, M-1 Rail reports nearly 50,000 riders during its first week, including fans during the Detroit Tigers home series.
M-1 Rail says it will use the extension to help familiarize Detroiters with the streetcar and work in additional rider feedback. Based on the previous week, M-1 Rail says it will add an additional streetcar during peak hours.
"As we refine operations to accommodate demand, it's also clear a public education campaign to help transit users is needed in SE Michigan," M-1 Rail Vice President for External Affairs Sommer Woods says in a statement. "Over the next six weeks, we will deploy street teams at station stops to assist riders in navigating the system and connecting to the destinations throughout the Woodward Corridor."
Additionally, M-1 Rail says it will extend hours on Sunday, May 21 from 8 p.m. to midnight to serve Tigers fans attending the evening game, which starts at 8 p.m.
The $180 million, partially federally funded QLine debuted last week to much fanfare. While M-1 Rail maintains that the 3.3-mile (6.6-mile loop) streetcar system could be the start of a larger regional transit system, that would depend on the passage of a Regional Transit Authority millage to fund such a project. A measure on November's ballot narrowly failed.
Public transportation advocates
used the launch of the QLine to raise awareness of Detroit's poor bus system
and to call on government leaders to support a new RTA measure for 2018.