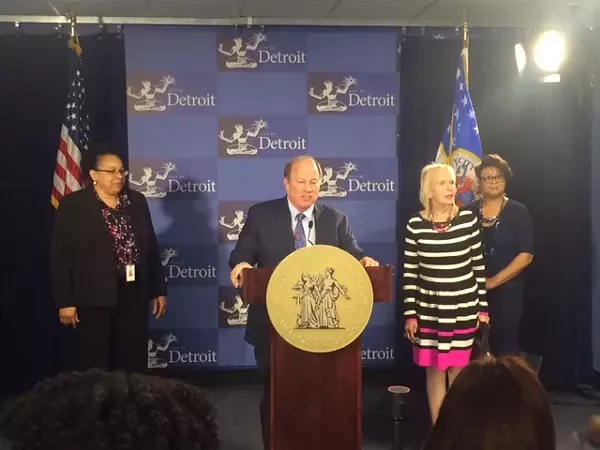 Violet Ikonomova
Detroit Mayor Mike Duggan announces proposal that would require all Detroit landlords bring their buildings up to code.
City officials would crack down on
landlords who don't have their rental properties up to code
and reward those who do under a proposed ordinance announced Wednesday by Detroit Mayor Mike Duggan and Councilmember Andre Spivey.
"While the city has historically had an ordinance requiring registration of rental properties, it hasn't been enforced in more than decade," Duggan explained at a news conference at the Coleman A. Young Municipal Center, citing a shortage of inspectors in Detroit's Building Safety Engineering Department (BSEED) as the problem.
Tens of thousands of rental properties in the city are not properly registered and have no certificate of compliance, according to city officials. The plan to get those properties up to code will involve letting landlords use authorized private companies for annual inspections, which city officials say would help clear a backlog of inspections and free up BSEED to do more enforcement. BSEED has also added staff, bringing the total number of inspectors to about three dozen.
Under the proposed ordinance, non-compliant landlords would be given a six-month window in which to address the problems at their properties. After that, they would have the status of their property entered into an online database that would-be residents could use to determine whether they want to live there. Current residents would be able to use the database to figure out if they're within their rights to withhold rent. Landlords whose buildings are not up to code would also continue to accumulate the usual fines for problems at their buildings, which can result in criminal penalties if left unaddressed.
Compliant landlords will be rewarded by only having to conduct inspections once every three years, further freeing up inspectors at BSEED.
"We're not just gonna sit by anymore and let building owners ignore city code," said Spivey, who introduced the ordinance.
Metro Times
has been keeping tabs on some Detroit landlords who've been collecting rent from tenants despite putting them at risk.
Russell Industrial Center owner Dennis Kefallinos was for years letting people work behind wooden walls that BSEED officials said posed a fire hazard when they
posted vacat
e orders
throughout the complex in February. Also at issue at the Russell were illegally installed heating and plumbing systems. Kefallinos also owns about a dozen loft buildings around the city that he at one time or another failed to have up to code while collecting rent from tenants. The issue is the subject of a
class-action lawsuit
filed on behalf of people who live and used to live at those properties.
Gerardo Pecchia, who owns the Sheridan Court Apartments in Midtown and several apartment buildings in Palmer Park, let Sheridan residents live in units with fungus problems due to what tenants say was his failure to replace the building's drainage system. The issue prompted city officials to tell residents in the portion of the building affected to vacate. The building had also failed a fire inspection before several units went up in flames in a March blaze that fire officials said appeared to be caused by an electrical issue.

Both landlords have been hit with numerous blight violations and cited for not having certificates of compliance.
Now many other landlords could have the same fate, including those who operate non-commercial rental homes. It's especially important in a time when investors are grabbing up property throughout the city, Duggan said, noting that investors have been buying houses at auction and renting them out without paying taxes, causing them to go into foreclosure.
"We've found three to four thousand people still living in houses auctioned off and in most cases when Land Bank goes out and asks, 'Why are you still living here?' it's because people were renters with no idea the landlord hadn't been paying taxes," he said.
The proposal will also take aim at those landlords, and allow the city to withhold certificates of compliance to those who are more than six months behind on property taxes and owe more than $1,000.
The ordinance would be phased in over two years. BSEED would issue an inspection schedule to give landlords in different parts of the city a date by which to comply.