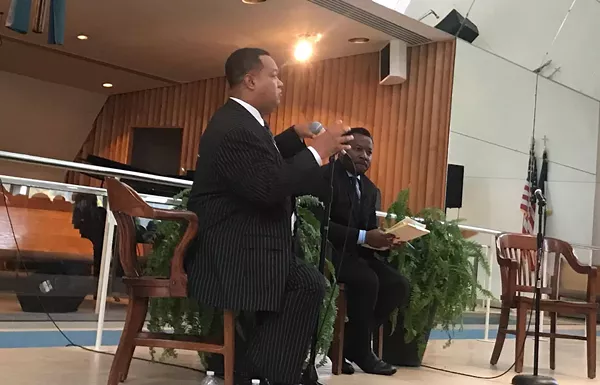 Rev. Lawrence Foster
Detroit mayoral candidate, state Sen. Coleman Young II, speaks at a poverty town hall on the city's east side. The empty seat was reserved for Detroit Mayor Mike Duggan, who did not show up.
Detroit mayoral hopeful Coleman Young Jr. has presented a vision for how he would address poverty in Detroit, promising to, if elected, sue the state of Michigan to reinstate city-residency requirements for public employment and take steps to keep people facing foreclosure in their homes. Young Jr. presented the plans at a first-of-its-kind Detroit poverty town hall last night, put on by
Detroit News
columnist and radio show host Bankole Thompson.
More than 600 people attended the event at a church on the city's east side. Notably, one key person was missing: Detroit Mayor Mike Duggan.
"Mayor Duggan, who declined the invitation to participate and address the issue, missed an opportunity," said Thompson. "Cleveland, which has the second-highest poverty rate of any big city, had a poverty forum with the candidates running for mayor. Detroit should not be the exception when it is the very city leading the nation in poverty."
Duggan is in the midst of re-election effort with Young Jr. as his challenger. He also runs a city in which more than 1 in 3 residents live at or below the federal poverty line of $12,060 a year.
Newly-released Census data show Detroit's poverty rate dropped last year to 35.7 percent, a more than 4 percent decline from 2015. In a media release, Duggan attributed the improvement to efforts by his administration to attract major job providers and train Detroiters for the "growing number of jobs available."
It's not clear how many people have been
lifted out
of poverty though. The percent change represents about 28,000 Detroiters and comes as millennials continue to move to the city, but the overall population declines. Last year Detroit's population dipped by .5 percent.
Large developments include
luxury apartment
buildings, and the Little Caesars Arena, which failed to meet a
local hiring requirement
. The Detroit promise program, meanwhile, as of last spring had only a
20 percent graduation rate
.
This year, however, Duggan's office launched an effort to get Detroiters job-ready for in-demand fields like health care, IT, skilled trades, and manufacturing through the
Detroit at Work
initiative. The program provides free training and help with job placement. The city also recently invested $10 million in the Randolph Career Technical Center, which will train a 600 people a year in skilled and construction trades.
Young Jr., meanwhile, has offered up a more ambitious vision for tackling poverty in Detroit that involves changing policies at the state level and recruiting help from the federal government. For example, Young Jr. says he would use
federal Hardest Hit Funds
to keep people facing foreclosure in their homes rather than spending the money on demolitions, which would likely mean getting the Michigan State Housing Development Authority to change its criteria for use of the funds. He also says he would advocate for reentry programs with the federal government, which is currently run by President Donald Trump.