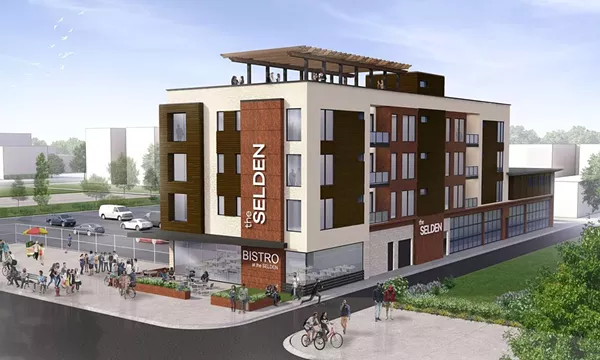 The Loft Warehouse, which has partnered with Berkshire Hathaway Home Services, is selling real estate in this luxury condo complex in Midtown. Units start at $439,000.
If you needed more evidence of Detroit's unequal resurgence, look no further: A division of Warren Buffett's Berkshire Hathaway empire has taken an interest in Detroit's luxury real estate market.
Berkshire Hathaway Home Services has added Detroit-based luxury real estate agency The Loft Warehouse to its brokerage franchise network to help promote its listings to an international audience. Berkshire Hathaway Home Services has about 1,300 offices nationwide.
"Detroit is an international buyer's destination," said Berkshire Hathaway Home Services spokesman Kevin Ostler. "A third of the Loft Warehouse's home sales come from buyers out of state."
And of course they do, because how many locals can actually afford what they're selling? Certainly, few in Detroit can, where the median income for a family of four is about $26,000.
The Loft Warehouse is selling units at a soon-to-open 12-unit luxury condo complex on Selden Street in Midtown, where the cheapest units will go for $439,000. It also sells homes other properties include
the Westin Book Cadillac Residences downtown, the Willys Overland Lofts in Midtown, and Harbortown in Rivertown.

The partnership is aimed to help lure more super-rich buyers and developers to Detroit. A press release says the move will help the The Loft Warehouse with access to national and international buyers, investors, and developers, upscale property marketing and national media relationships.
Digital rendering of the inside of a condo unit being sold by the Loft Warehouse — "The ultimate Detroit living experience."
"From our perspective, the future looks incredibly bright as we continue showcasing the ultimate Detroit living experience," Loft Warehouse owner Sabra Sanzotta said in a release.
Of course, super-rich buyers, while growing inequality in the short term, could help elevate Detroit in the long run, through higher property taxes and the like. Or things could play out like they have in every other major American city.
We'll hope for the best.