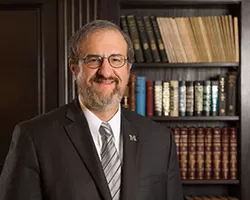 University of Michigan, WIkimedia Creative Commons
Mark Schlissel of the University of Michigan.
E-mails released on Wednesday from University of Michigan President Mark Schlissel reveal he found it "ironic" that students who supported President Donald Trump felt shunned on campus.
"Some complaints from our minority of Trump supporters who now feel marginalized and ostracized in our campus milieu and post election activity. Ironic," Schlissel wrote in an email to U-M Dearborn chancellor Dan Little shortly after the election,
as reported by the Associated Press
.
Later, on Nov. 10, Schlissel told former U-M president Mary Sue Coleman that he was "overwhelmed with uncertainty" by Trump's election, and that he was against the "against the idea that facts don't matter, that science isn't relevant to decision making and that people without white skin don't belong here." He also said he was "torn" on making recommendations for Trump administration appointees.
The emails were released at the request of the right-leaning Mackinac Center for Public Policy, which sought the emails after Schlissel made pro-Hillary Clinton comments at a post-election student rally.
"The University of Michigan is a public entity which receives more than $300 million in state funds," Mackinac Center for Public Policy vice president of legal affairs Patrick Wright told the AP. "Taxpayers deserve to know that its leaders are treating students fairly regardless of political beliefs."
The group sued U-M for failing to turn over emails in a timely manner. A settlement was announced Wednesday.