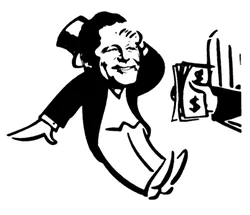 Something unusual happened on Thursday. A Michigan billionaire told the government he wants taxpayer money, and he didn't immediately get it.
Dan Gilbert — who at an estimated net worth of $5.6 billion is Michigan's wealthiest resident — is requesting $250 million in public money to help fund four of his projects planned for downtown Detroit. He claims they'll generate 24,000 new jobs and $673 million in new local tax revenue, though there's some question about the accuracy of his figures.
The request for $250 million represents Gilbert's first raid on the state's coffers using the laws created as part of the
recently-approved "Gilbert Bills."
As part of that package of laws, the state made up to $1 billion in taxpayer assistance available for Gilbert and other wealthy developers. Even though he's seeking state money, Gilbert must also get approval from the Detroit City Council because his projects are located there.
The four projects include a new skyscraper on the former Hudson's department store site; a new mixed-use project on the Monroe Block; the renovation of the long-vacant Book Tower and Building; and a major expansion of the One Campus Martius building.
But as
The Detroit News
reported last week
, some taxpayers in Detroit — one of the nation's poorest big cities — aren't thrilled about the prospect of giving the state's richest man more money.
The News
's Louis Aguilar wrote on Thursday that city council's planning and economic standing committee delayed moving forward a request for funds from Gilbert's development company, Bedrock, because the request "was met with some public rancor over a billionaire's need for tax money to help finance ambitious projects."
The proposal could move to the full council this week, but it's not often that Michigan's typically pro-developer local elected officials appear to seriously question whether corporate welfare is in their constituents' best interest.
It's unclear why he is packaging the four together, but the rules allow him to come back for more money next year. (Perhaps he wants another $250 million in 2018 for a project on the Uniroyal site on East Jefferson, which he is reportedly
working to buy.
)
Because of the way the transformational brownfield law is structured, Gilbert could come back for more money each year between 2018 and 2021. The $250 million request could be the first installment of a series of annual public payments to Gilbert for his projects. In theory, taxpayers could give him up to $1 billion for eight major projects in the next five years – that's what the law allows.
And that's the beauty of the arrangement, at least for Gilbert. It allows him to collect hundreds of millions of dollars piecemeal instead of at once, making it more difficult for people to oppose — and easier for taxpayers to digest.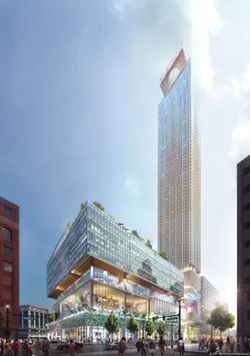 Courtesy photo
A rendering of Dan Gilbert's proposed development for the site of the former J.L. Hudson's department store. Through a package of bills colloquially called the "Gilbert Bills," Michigan's richest resident could get up to $1 billion in taxpayer money to fund the project.
But the issue at hand in the city council committee is whether Detroit taxpayers will pay for the tax incentive. The bottom line is the plan would divert tax money that should go to the state of Michigan and put it in Gilbert's pocket. So in that way all taxpayers lose, though that's not how Gilbert's team and city staff are framing it.
More specifically, Gilbert would collect income tax from any resident or employee of a business that moves into his new buildings. These businesses and residents exist right now, and they pay taxes to the state. Those taxes go to make road repairs, fund police, fund education, and so on.
When the residents and businesses move into Gilbert's new buildings, their income tax would no longer go to the state. It would go to Gilbert — and that would shrink the state's tax base.
The justification, according to Gilbert and his team, is that the projects would create 24,000 new jobs, but some question that figure. There is no government organization that tracks whether developers receiving taxpayer dollars create the jobs they claim to, so Gilbert can say whatever he wants — no one is following up.
Independent studies like that conducted by Upjohn and Pew Charitable Trusts in 2016
found that Michigan provides businesses with more corporate welfare than most states
, but doesn't see the expected job growth. A recent
Mackinac Center investigation
also found that only 2.3 percent of projects using similar tax incentive programs produced the jobs promised.
Of Gilbert's 24,000 jobs, 15,000 would be temporary construction jobs, according to his own figures. And since he would collect the income tax of the workers laboring on his projects, there's less of a positive economic impact on the rest of the state. As for the permanent jobs, it's worth stressing that Gilbert's four projects may not create many new jobs because he is putting up buildings and renovating towers where existing jobs would relocate.