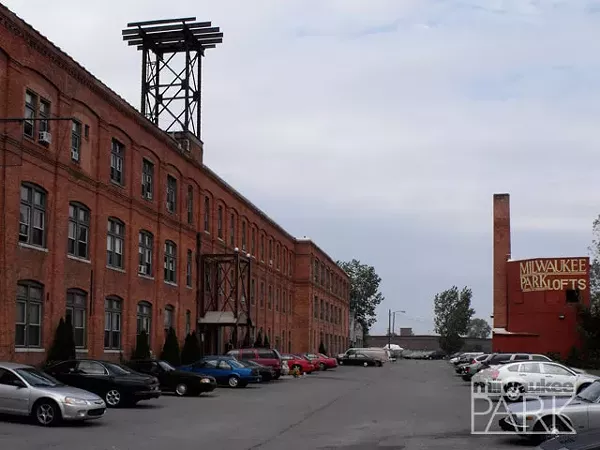 Boydell Development
The Milwuakee Park Lofts are among a dozen Detroit rental buildings where federal investigators are looking into possible violations of the Fair Housing Act.
Controversial Detroit landlord Dennis Kefallinos is in hot water again as federal investigators look into whether families with children were discriminated from renting units at a dozen of his residential properties.
According to an email obtained by
Metro Times
, the U.S. Attorney's Office of the Eastern District of Michigan is investigating possible fair housing rules violations at the River Park Lofts, Milwaukee Park Lofts, Grand Lofts, The Hudson Lofts, John R Lofts, Lafayette Lofts, Brooklyn Lofts, Universal Lofts, Coat Factory Lofts, 14th Street Lofts, Greektown, and Elizabeth Street Lofts.
The same Kefallinos-owned properties are, separately, the subject of an ongoing 2014
class action suit
on behalf of tenants who say they were rented units in substandard condition. A Freedom of Information Act cited in that legal filing showed nearly all of the loft-style properties weren't up to code and did not have city-issued certificates of occupancy at the time suit was filed. Kefallinos made headlines last winter when
city officials attempted to shut down his Russell Industrial Center
complex because of hazardous conditions at the site.
The federal housing discrimination investigation comes as a black mother sues Kefallinos and his Boydell Development Company for alleged race- and family status-based discrimination. According to the complaint, filed last year, Dar'sha Hardy was trying to rent a unit at the River Park Lofts when an agent told her there was a "no kids in this building policy," and that her 6-year-old son was a "little bit too young." As a result, Hardy alleges she lost her job downtown because she couldn't find nearby housing.
Two testers deployed by the nonprofit Fair Housing Center of Metropolitan Detroit to follow up on an initial report by Hardy were also told kids couldn't live at the building, the complaint says. The group was also separately contacted by a single white mother who said she was told, more specifically, that it was kids under the age of 6 who weren't allowed to live at River Park.
Children under the age of 6 are at the highest risk for lead exposure and related health problems. Many of Detroit's older buildings have been painted with lead-based paint, and passing a lead check is required for a building to obtain a certificate of occupancy.
Boydell General Manager Chris Mihailovich declined to comment on the case and federal investigation but said, "It is not true that we deny rent to families, no."
Kefallinos' lawyer, Ben Goneck, said he was unaware of the housing discrimination investigation. While the probe looks at an issue similar to the one brought by would-be River Park Lofts tenant Hardy, the U.S. Attorney's Office said the investigation is separate.
A tenant at the Kefallinos-owned Lafayette Lofts, who asked to remain anonymous, said she recalled having seen three child under 6 in the building, but noted that the loft building is comprised of mostly one-bedroom units.
In addition to his loft buildings, Kefallinos owns dozens of non-residential properties in Detroit and Hamtramck, many of which are vacant. In August,
Crain's
reported he had
marketed most of those properties for sale
amid ongoing criticism over delayed renovations or improvements. One of the properties, the Harvard Square Centre building on Broadway in downtown Detroit, was recently scooped up by
Dan Gilbert
.