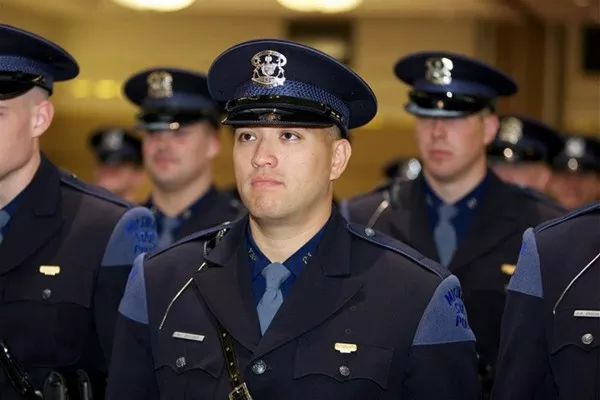 Michigan State Police Facebook page
Bessner, among a sea of other white officers, during his Michigan State Trooper graduation in 2012.
According to personnel documents obtained by the
Detroit News
, former Michigan State Trooper Mark Bessner, who has been charged with murder in connection to the death of Detroit teen Damon Grimes, had a history of using his stun gun inappropriately.
In August, Bessner fired his Taser while riding in the passenger seat of a moving police vehicle. He hit 15-year-old Grimes, who was illegally riding an ATV through a Detroit neighborhood. Grimes then fell from the vehicle and later died from his injuries.
News
' report.
In 2016, Bessner fired his Taser at a suspect who was in handcuffs, but was fleeing from police custody. It is against the rules to fire a Taser at anyone in handcuffs, but Bessner avoided punishment after an arbitrator ruled there was "no just cause" for the proposed 10-day suspension.
Similarly, in 2014, Bessner fired his stun gun at a handcuffed suspect during a traffic stop. He was give a five-day suspension, but it was later reduced to one day.
Additionally, Bessner had managed to avoid a punishment for a March 2017 misconduct allegation. Michigan State Police say he was traveling at a high speed without lights or sirens. Prior to his fall resignation, he had not be punished for the alleged offense.
These revelations come at a bad time for the Michigan State Police department, which is also under scrutiny after director Kriste Kibbey Etue shared a Facebook post saying football players who knelt during the National Anthem to protest inequality and police brutality "degenerates" and "millionaire ingrates who hate America."
News
notes that in November the Michigan State University trooper recruit school graduated only 10 black students out of a 127-member class. The class also had three Hispanic and three mixed-race students — 111 were white.