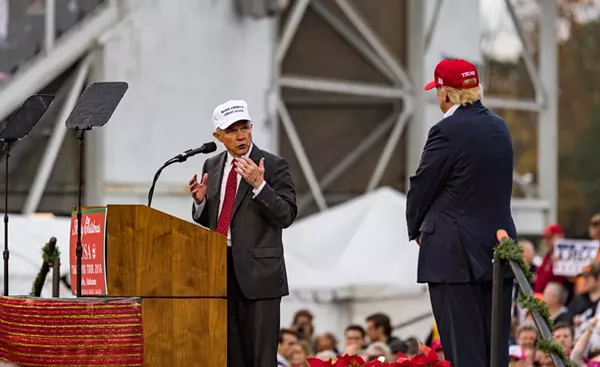 Brad McPherson / Shutterstock.com
Then-Alabama Senator and current US Attorney General Jeff Sessions speaks to the crowd with US President-elect Donald J. Trump in 2016.
Apparently making good on his longstanding threats of a federal marijuana crackdown under the Trump administration, Attorney General Jeff Sessions announced Thursday that he is rescinding Obama-era directives discouraging the federal government from interfering with states that have legalized pot.
In
a one-page memo
— in which he called marijuana "a dangerous drug" and said that "marijuana activity is a serious crime" — Sessions explicitly rescinds, effective immediately, the Obama-era Justice Department memo issued under
then-Deputy Attorney General Jim Cole in 2013
, which called for de-prioritizing marijuana enforcement in pot-friendly states.
Sessions' memo also calls for federal prosecutors "to weigh all relevant considerations, including federal law enforcement priorities set by the Attorney General, the seriousness of the crime, the deterrent effect of criminal prosecution, and the cumulative impact of particular crimes on the community."
What exactly the Attorney General's new directive means for states like Michigan, which voted to approve marijuana for medicinal purposes in 2008, is unclear. Michigan Attorney General (and current GOP gubernatorial hopeful) Bill Schuette has previously campaigned against Michigan's 2008 medicinal legalization effort and has said that he does not support legalization. Per a package of reform bills passed into law last year, Michigan is in the process of implementing
state-licensed commercial grows
, and an initiative to legalize marijuana for recreational use is currently being considered for the November ballot.
Naturally, Michigan marijuana advocates are unhappy with Sessions' decision.
"The recent victory
by the Kettle Falls Five in Washington
proved that the Obama-era policy provided bright-line regulations for federal prosecutors," Rick Thompson of advocacy group MI Legalize tells
Metro Times
by email. "Removing those regulations while so many states are adopting or successfully managing cannabis programs not in compliance with national policy is a huge step backward. It illustrates the vast disconnect that exists between the Trump administration in Washington, D.C. and voters, the real people in places nationwide who chose to knowingly give permission to their people to violate federal law."
He adds, "Doubling down on a failed drug policy is a bad bet; maybe Sessions should talk to a gambling aversion counselor the next time he visits a Trump casino property."
MI Legalize was behind a failed initiative to legalize recreational marijuana on the 2016 ballot. The group supports a new effort by the Coalition to Regulate Marijuana Like Alcohol to get marijuana decriminalization on the 2018 ballot. RMLA's ballot petitions were delivered to Lansing in Novemeber, and state officials are currently reviewing collected signatures.
The RMLA proposal would allow Michigan residents ages 21 and older to be able to legally carry up to 2.5 ounces of weed and store up to 10 ounces at home. Smoking marijuana in public would still be prohibited. If the proposal makes the ballot and is approved by voters in November, it would make Michigan the ninth state to legalize marijuana for recreational use.
"Just like with alcohol, marijuana prohibition has been a huge failure," RMLA spokesman Josh Hovey previously said in a statement. "Instead of wasting law enforcement resources on a substance that is proven to be less harmful than either alcohol or tobacco, our initiative creates a tightly regulated system that will generate significant revenue for the state that will help fund our roads, public schools, and local governments — three of Michigan's most under-funded needs."