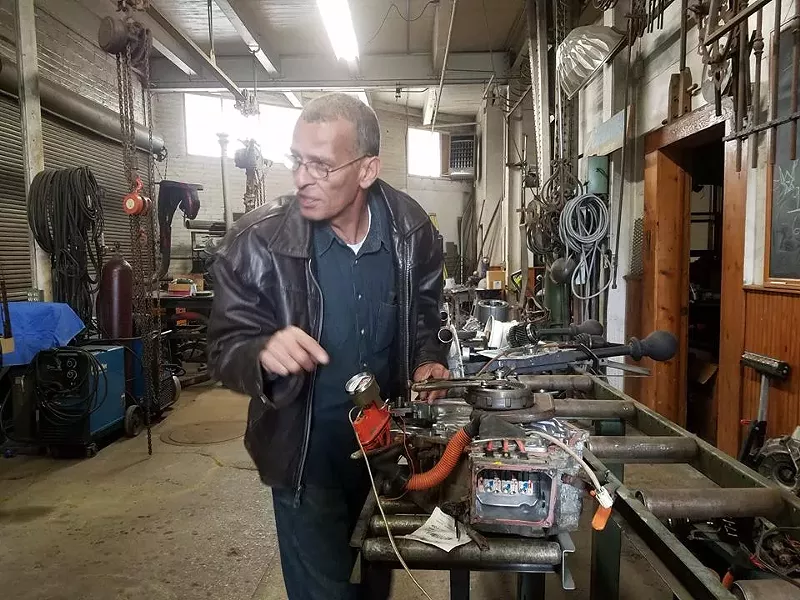 CAN Art Handworks' Detroit Windmill Facebook Page
Carl Nielbock
Next week, one of Detroit's most unusual artists, technicians, and designers will host a fundraiser for a green energy project that will power everything from urban agriculture to laptops and cellphones. Guests will get a rare peek inside a one-of-a-kind Detroit space and to meet a unique visionary.
The visionary is Detroiter Carl Nielbock
,
a man with a fascinating story of his own
. Nielbock, son of a German mother and an African American G.I. father, has made Detroit his adopted home after coming here searching for his family roots in the 1980s. As a metalworking artist, he was floored by Detroit's wealth of architectural detail and metal fabrication. He was even influenced by ambitious artists who flourished outside officialdom, such as Tyree Guyton.
In his daily work, he re-creates and burnishes architectural elements for historic buildings in metro Detroit. And yet some of his most impressive work is forward-looking, about finding ways to develop a new "urban revival architecture" that will fuse historic style, green energy, and new technology. That's what drives his latest planned project, and it's powered by the wind.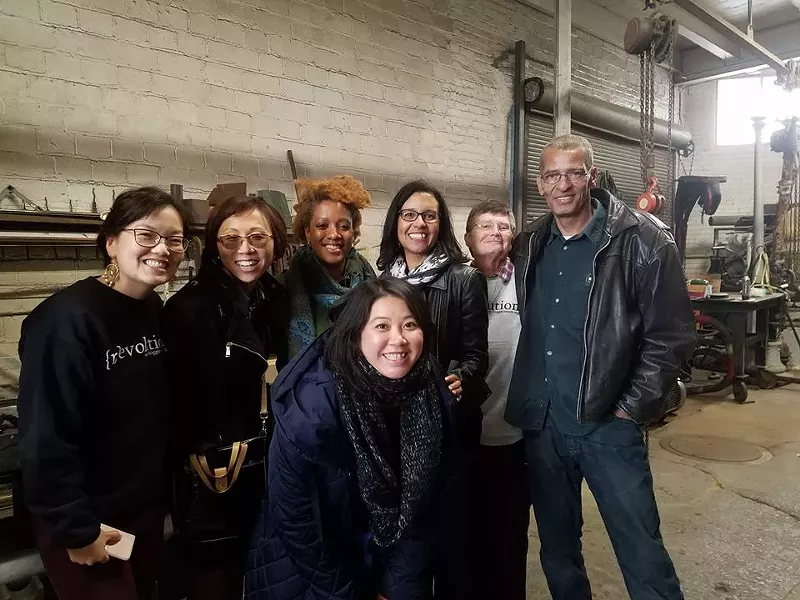 CAN Art Handworks' Detroit Windmill Facebook Page
Nielbock, far right, poses with visitors to his Detroit studio.
But these aren't the big, industrial-sized turbines you see driving cross-country; these turbines are scaled down to human size, made of commonly available parts and as easy to assemble as, say, a bike.
Lydia Rae Levinson, grants and program support director at Eastern Market, says, "The sustainability aspect, that's really exciting about this — the way that he's reusing existing materials to create these wind turbines that create energy near the point of consumption and to be able to have that in the market district where patrons can come and be able to see his art is something very exciting for us. … I think it will open people up to the possibilities of alternative energy and the adaptive reuse of existing materials."
One of the turbine towers will rise from a petunia planter outside Eastern Market's Shed 5, where it will provide power for a cell phone charging station or for people's laptops via USB sockets. It's a conscious choice to have people draw the charge for their electronic devices while they add to the energy of the high-traffic area.
The second location will be a couple blocks away at the market garden run by the Greening of Detroit at the corner of Wilkins and Orleans streets. That's where a turbine will create the energy used to irrigate plants.
"I love that we get two different examples of how this energy can be used, one for consumers, one as part of urban agriculture project," Levinson says.
Of course, before the project gets up and running, it has to gain visibility, publicity, and a groundswell of funding. That campaign will be kicked off next week with an open house of sorts at Nielbock's studio, CAN Art Handworks, where Nielbock will offer demonstrations of turbine models that have functioned for several years already, and will show how he can hotwire a windmill into a Prius electric motor to soup up the capacity of his air-powered generators. It sounds like exactly the kind of home-grown technological innovation that deserves a wider audience — and wider application.
CAN Art Handworks' Detroit Windmill Facebook Page
Rendering of an even more ambitious plan that would use Detroit's vacant lots to produce power — and income.
Nielbock is disposed to see things much differently than your typical Detroiter. Where many see eyesores, he sees assets. He can't see why we aren't producing energy on small vacant lots, working with existing utility authorities under a reverse meter program. Nielbock says large amounts of green energy — and income — could be generated.
If this is the sort of thing that grabs you, come on down to Nielbock's studio next week. There will be wind-powered motors, gusts of visionary rhetoric, and maybe a blown mind or two.
You can see CAN Art in Action during two tours, one at 10:30 a.m. to noon, another at 1 p.m. to 3:30 p.m. on Saturday, Jan. 13, at CAN Art Handworks, 2264 Wilkins St., Detroit; 313-444-9317; tours will end with a question-and-answer period and light refreshments. For more information, including a link to the crowdfunding site, click here. To stay up to date, like the project's Facebook page.