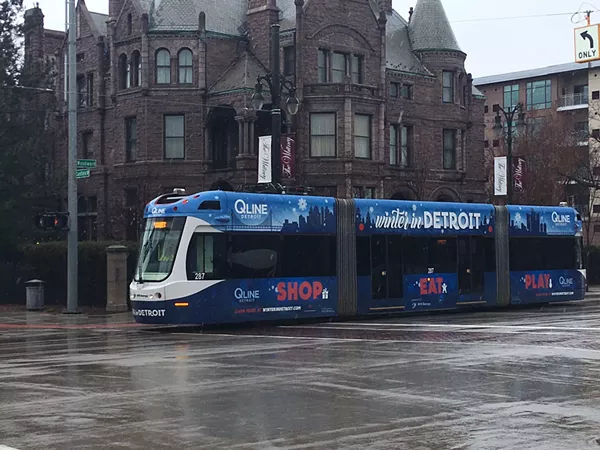 Frequent riders of Detroit's QLine streetcar may have found it might be worth it to spring for a monthly or annual pass instead of just a three-hour or daily pass. But some riders have taken to social media recently to express frustration in trying to obtaining one.
A spokesman for the QLine acknowledged the problem and tells us that basically, they have stopped selling the monthly pass for February since it's so late in the month and have not started the March sale yet. The same applies to annual passes because they prorate the annual pass cost by the month.
However, the spokesman says both will be available again soon, and a long-term solution to the glitch is forthcoming.
To back up, riders like this guy
on Reddit
and this guy
on Twitter
have pointed out that despite the fact that the QLine
advertises
monthly and annual passes, it seems to be damn near impossible to get one.
The Reddit user noted how the website only actually allows you to buy three-hour or daily passes, despite showing options for monthly and annual passes as well. The Reddit user said they asked a police officer on a train how to buy a pass, who advised them that they would be able to buy one at a QLine stop. But when the rider went to the self-serve machine at a stop... no dice.
The QLine spokesman says monthly and annual passes will be available again starting on Feb. 27.
"M-1 Rail prorates the annual pass by month and sells monthly passes through the 19th of each month. We begin selling the next month's pass beginning on the 27th," the spokesman says. "For example, the February monthly sells from Jan. 27-Feb. 19 and can be used for all of February. On Feb. 27, the March monthly pass and further prorated annual will go on sale."
The spokesman says after reviewing the social media complaints, M-1 Rail is evaluating a change to the policy so there isn't a break in time where the two passes are unavailable for purchase.
Stay on top of Detroit news and views. Sign up for our weekly issue newsletter delivered each Wednesday.