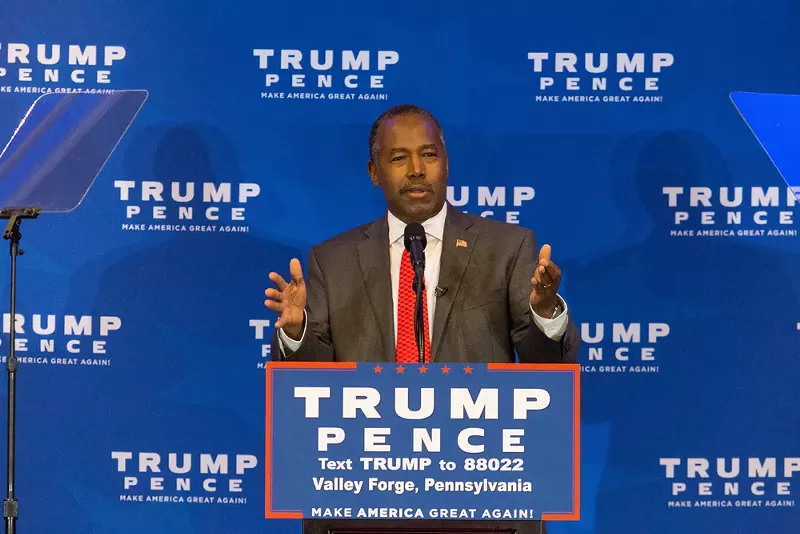 Courtesy photo
Ben Carson.
In a bit of Trump administration news that hardly comes as a surprise at this point,
The
New York Times
is reporting
that as Secretary of Housing and Urban Development Ben Carson was planning on slashing funds for programs to aid the poor and elderly, the department was circumventing the law by outfitting Carson's office with an expensive custom furniture set.
According to federal law, redecorating a department head's office requires congressional approval if costs exceed $5,000. But a department whistle-blower claims she was told by a HUD staffer on behalf of Carson's wife that "$5,000 will not even buy a decent chair" and was pressured to circumvent the redecoration law. The whistle-blower claims
she was then demoted and transferred
after refusing to comply, according to a report from
The Guardian
.
According to the
NYT
, the department purchased Carson's custom hardwood table, chairs, and hutch in late 2017 for $31,561, or a little less than the median cost of a home in Carson's native Detroit. A HUD spokesman defended the purchase, saying the department did not need congressional approval for the office furniture, which will be located in Carson's 10th-floor office suite, because it serves a "building-wide need."
The spokesman said Sec. Carson "didn't know the table had been purchased," but does not plan on returning it. The spokesman also said, "In general, the secretary does want to be as fiscally prudent as possible with the taxpayers' money."
The Trump administration
has proposed cutting
more than $8 billion from HUD in 2019, including cuts to low-income housing programs.
Stay on top of Detroit news and views. Sign up for our weekly issue newsletter delivered each Wednesday.