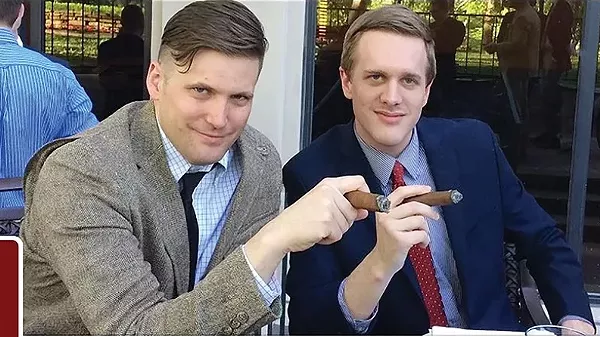 Photo via Twitter
White nationalist Richard Spencer and alt-right attorney Kyle Bristow (right).
White nationalist Richard Spencer owes his upcoming visit to Michigan State University to one man — metro Detroit lawyer Kyle Bristow, a self-described
legal advocate for the alt-right
.
Bristow brought a first-amendment legal challenge against MSU after it denied Spencer permission to speak at the campus last year, prompting the school to settle and reverse course. But before Spencer takes the stage Monday in East Lansing, he will visit a secret location in metro Detroit to speak at an alt-right conference put on by Bristow and his "Foundation for the Marketplace of Ideas."
Nonprofit forms filed by FMI describe Bristow, the group's executive director, as "one of the Alt-Right's most vicious attack dogs." While Bristow did not respond to a request for an interview Thursday, a scroll through his now-protected Twitter account provides some insight into his beliefs: His posts advocate for violence against Mexicans who attempt to illegally cross the border, promote anti-Semitism, and denigrate Africa. Bristow also seems to enjoy comparing himself to Dr. Evil and ridiculing reporters who seek to cover him or his organization.
The actor in the video says "I'm suggesting we put these electronic collars on all the deportees, then we bury a wire along the wall forming an invisible fence. Now, the next time this illegal tries to enter the country, pow." An electric shock is then sent through the figurine he's pointing to, causing it to catch fire.
Bristow's role in the white nationalist movement can be traced back to his time as an undergraduate student at MSU. According to the
Southern Poverty Law Center
, Bristow led the school's chapter of the Young Americans for Freedom — deemed a hate group by the SPLC — organizing campaigns like "Catch an Illegal Immigrant Day." YAF's agenda was also anti-gay. According to the SPLC, Bristow once told an alternative campus newspaper that "Homosexuality kills people almost to a degree worse than cigarettes. … [T]hese [pro-gay rights] groups are complicit with murder."
As a law student in Toledo, Bristow wrote a novel titled
White Apocalypse
, that the SPLC says seethed "with lethal white supremacist revenge fantasies against Jewish professors, Latino and American Indian activists, and staffers of a group clearly modeled on the SPLC. "
Bristow quieted down a bit after he graduated from law school, as he apparently looked for work as a main stream lawyer. Things changed in early 2016, when he founded FMI amid Donald Trump's ascension and increased visibility for the alt-right.
The Clinton Township-based "Foundation for the Marketplace of Ideas" aims to fight the legal battles of the alt-right, according to social media posts by Bristow. In 2016 it brought in a paltry $15,000. Nonprofit forms show its membership that year was entirely white.
The group's conference this Sunday and Monday is billed as "an opportunity for identitarian and alt-right activists and leaders to discuss the future of their movement and to coordinate their activities" at a
"fun and inspirational extravaganza."
Speakers include Bristow, Spencer, Cameron Padgett, Matthew Heimbach, and Eli Mosley.
This will be the organization's second conference. The first was held in metro Detroit in 2016 and drew about 60 people, according to the FMI website.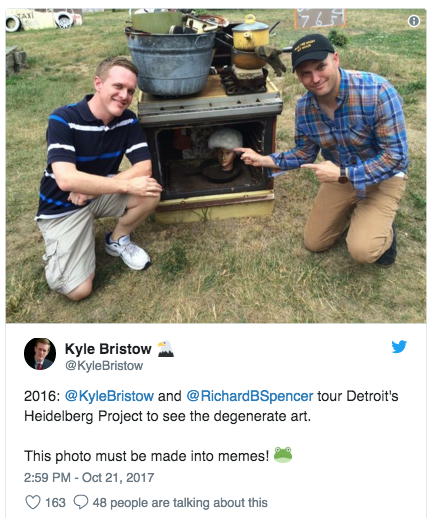 Bristow and Spencer stopped by the Heidelberg Project the last time they were known to be together in Detroit. On Thursday, Heidelberg Project CEO Jenenne Whitfield reacted to news of their visit: "The Heidelberg Project is symbolic of what it means to STAND, rooted firmly in principles of healing, hope and love for all people. We've withstood challenges far more serious than those of a few hateful misguided self-promoters; consequently, any attempt to use the Heidelberg Project for opposing principles WILL FAIL."
During his
speech
at the 2016 event, Bristow said Detroit "could not be a more symbolic location for our conference," because the eastern border of the "poor and predominantly black city" with Grosse Pointe Park, "an affluent and virtually all-white town," is evident of "the cultural, racial, civilizational divisions of competing tribes located in the United States."
This year's conference involves a thorough vetting process. The organization said it would allow up to 300 attendees.