Nick Hayes
In August, demonstrators marched in Campus Martius to protest fascism after a white supremacist drove his car into a crowd of protesters in Charlottesville, Va.
Demonstrators will gather in downtown Detroit Sunday to protest an alt-right conference expected to draw the likes of Richard Spencer to an undisclosed location in the area. The conference put on by the Foundation for the Marketplace of Ideas is to take place on the eve of Spencer's controversial visit to Michigan State University.
The protest to
"Shut down Richard Spencer in metro Detroit"
is intended "to say loud and clear that Detroit and Michigan condemn Nazi organizing and everything these vile people stand for," a Facebook page for the event reads. Organizers include the Metro-Detroit Political Action Network, By Any Means Necessary (BAMN), and Great Lakes AntiFa.
Naturally, we've been wondering what kind of Detroit establishment would dare host this group of reviled individuals.
Clinton Township-based attorney Kyle Bristow would have you believe the conference is to be held at the same location where he last held a similar event, in 2016.
A
little bit of sleuthing suggests that event took place at the Belle Isle boathouse, whose interior was pictured in a video purporting to be from the event. The video was taken down overnight, but we managed to capture the screengrab shown below.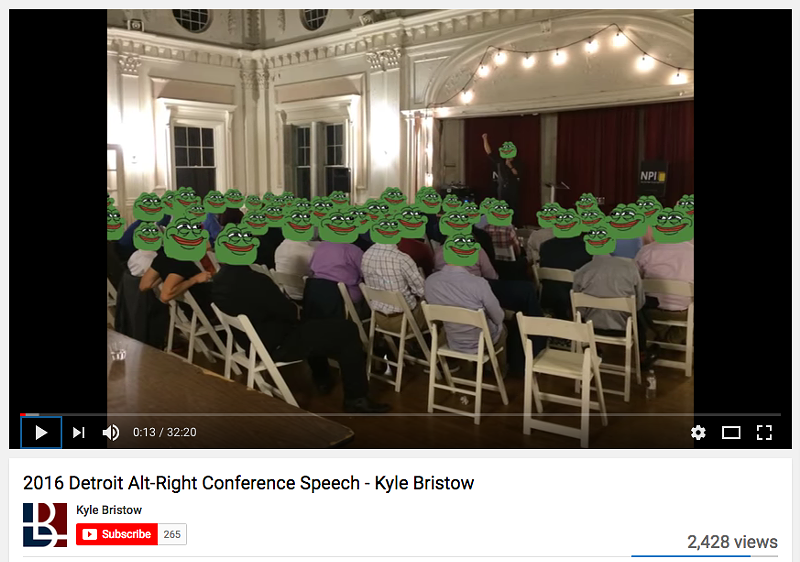 Belle Isle boathouse event manager Ryan Abney says there are no events scheduled at the space on Sunday. She was unable to say whether white supremacists gathered at the boathouse in 2016, because she didn't take the job until June of that year, but says the boathouse rarely hosted events before then. Based on the video shown in the screenshot above, the 2016 gathering may have been an event for the innocuously named National Policy Institute, a white supremacist think tank based in the Washington area.
"We're hearing there may not even be a conference," Lt. Shaw told
Metro Times
Thursday night.
Bristow has said the event will draw a crowd of 100-150 people vetted by his FMI organization. Speakers are said to include Spencer, Bristow, Cameron Padgett, Matthew Heimbach, and Eli Mosley.
Stay on top of Detroit news and views. Sign up for our weekly issue newsletter delivered each Wednesday.