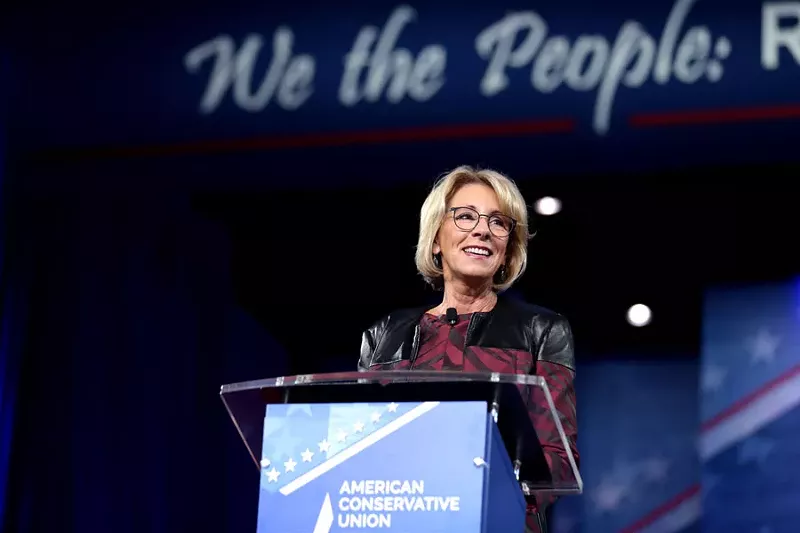 Gage Skidmore
Betsy DeVos speaking at the 2017 Conservative Political Action Conference in National Harbor, Maryland.
The union representing nearly 4,000 federal employees working for Betsy DeVos' U.S. Department of Education filed a complaint this week accusing her agency of union busting.
The American Federation of Government Employees filed the complaint on Tuesday, after DeVos' Department of Education implemented a 40-page
"collective bargaining agreement"
that took effect on Monday — a document union membership says is anything but what its name implies.
"You can't even call it a 'collective bargaining agreement' because it wasn't collective, it wasn't bargained, and there was no agreement," AFGE Assistant General Counsel Ward Morrow told
The Intercept
.
According to the complaint, "The Agency's proposed collective bargaining agreement has stripped out most of the content of the parties previous collective bargaining agreement and essentially removes all union rights."
"Joining the union is voluntary for workers, yet AFGE and other federal unions are required by law to represent everyone covered by the union contract — even if they choose not to join," the union said in a statement. "For this reason, Congress provided representational time so that the union can carry out its legal duty of fair representation to all those who are covered by the contract, including those who choose not to pay dues. Removing access to this time is like asking the fire department to operate without firetrucks or a firehose."
The union also charges that DeVos has avoided efforts to meet union leadership in person. An Education Department spokeswoman had previously countered that the union "spent more than a year dragging its feet on ground rules negotiations without reaching any agreement, and then failed to respond in timely manner to negotiate over the contract proposed by the Department," according to
Politico
.
DeVos has previously been a vocal opponent of teachers unions, and also "forgot" to disclose a $125,000 donation she gave to an anti-union political organization in advance of her confirmation hearing.
You can read the complaint
here.
Stay on top of Detroit news and views. Sign up for our weekly issue newsletter delivered each Wednesday.