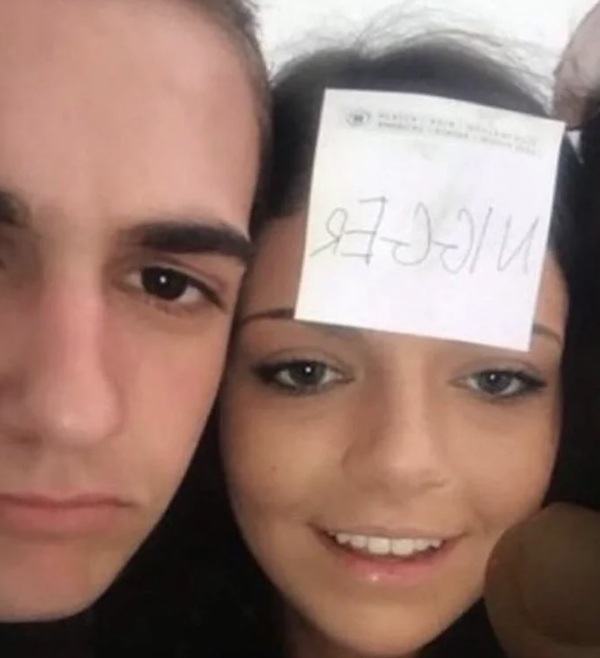 Facebook
Jillian Kirk takes a photo with the N-word written across her forehead.
Michigan State University sophomore Jillian Kirk appears to be your garden variety outspoken Trump-era racist.
On social media, she has posted messages like "GOD BLESS AMERICA, FUCK THE BLACKS!" The
New York Po
st
reports that in other social media posts, Kirk allegedly regularly uses the N-word and once wrote, "Fuck niggers I'm so over it."
Beyond the racism, she brags on social media about how she "used to bully retards" in high school.
MSU is
the type of school that says "OK" to white supremacist Richard Spencer
, attempts
to hide child molester Larry Nassar in the shadows
, then hires
known rapist-defender John Engler
to clean up the Nassar mess once it turns into a full-blown scandal.
So who would've guessed that the university says there's little it can do about Kirk's racist social media outbursts? Instead of disciplinary action, it issued a rather tame statement about inclusion.
As
The Grio
notes, other schools like the University of Alabama have taken similar situations more seriously. It
expelled
student Haley Barber over a racist rant she posted to Instagram on Martin Luther King Day.
Still, students and others are pissed, and people have spent the last few days figuratively calling for Kirk's head and demanding MSU take serious action. A MSU student using the Twitter handle @juylianafowlkes tweeted a series of pictures of Kirk using the N-word and asked "How many retweets does this girl need before MSU kicks her out"?
The post current has more than 54,000 retweets.
And another Twitter user who says Kirk used to bully her tweeted this message:

The Tab
reports that Kirk decided it was time to apologize, and her social media accounts have been deleted.
"I apologize for the inappropriate social media posts I made. Nothing was meant to cause pain to anyone, but I realize what was in those posts is hurtful and disrespectful. What was said in these posts is not how I feel, but I know I need to learn how to be more inclusive and respectful to diversity of people and diversity of thought.

It is my goal to work on my behaviors. The recent events have shown me how insensitive I was. Again, I want to apologize for my actions and to those I have hurt."

Stay on top of Detroit news and views. Sign up for our weekly issue newsletter delivered each Wednesday.