The American Civil Liberties Union of Michigan has filed a federal lawsuit against the city of Flint and members of its police department over the arrest of four people who spoke out at a public meeting on the beleaguered city's water system.
The suit filed this morning alleges the city, its police chief, and several officers violated the first amendment and used excessive force when they arrested people who expressed concern over the proceedings of the April 2017 meeting. Part of the issue, the suit says, was that the government-run meeting was being held in a church, and officials wanted would-be attendees to comport with church rules.


Flint Police Chief Tim Johnson told men present to take off their hats, the suit says. He also warned guests: "[D]on't be in here trying to disrupt this meeting, because if you do I'm going to escort you out and I'm only going to take you to the back door and then you're going to jail. I'm not going to play with nobody tonight."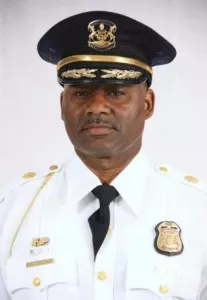 Flint Police Chief Tim Johnson.
Media reports at the time said those who didn't take off their hats were
stopped from entering the church
, and people who were cursing were escorted out.
Plaintiff Leah Palladeno and her husband, Anthony, were both "forcefully" removed from the meeting, the suit says. Afterward, when Palladeno described the meeting as "bullshit," the suit says police officers grabbed her, forced her hand behind her back, and slammed her head down repeatedly on a desk.
A total of six people were arrested and held in jail overnight. Several of them were taken into custody outside the church for expressing their disapproval of the meeting and the arrests, the suit says.
The Genessee County Prosecutor's Office declined to file charges against those arrested.
Representatives for the Flint Police Department and city did not immediately respond to requests for comment.
Stay on top of Detroit news and views. Sign up for our weekly issue newsletter delivered each Wednesday.