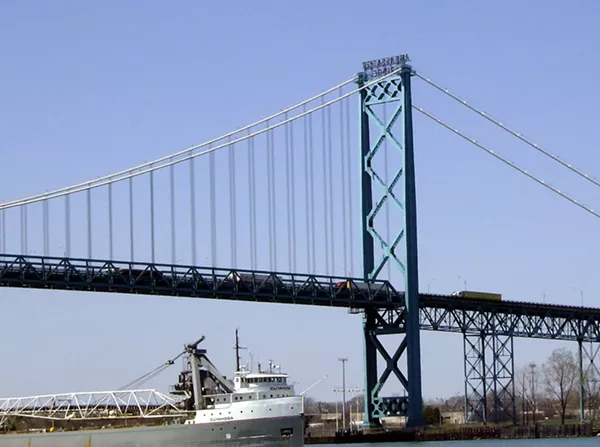 The drama over the Gordie Howe Bridge continues, with the Moroun family now calling on President Donald Trump for help.
The latest development, reported today by
Bloomberg News
, is that the Ambassador Bridge operators want to throw a wrench in the Canadian government's plans to build the rival Gordie Howe Bridge by appealing to Trump's "America First" sensibilities.
According to
Bloomberg News
, Matthew Moroun wants to screw over the Canadians by asking Trump to rescind an Obama-era waiver that exempts the Canadian bridge from having to use only U.S. steel. Ending the exemption would cause the cost of the $3.1 billion bridge to soar higher, possibly derailing the project and enabling the Morouns to continue with their plans to build their own second bridge without the fear of competing against the Canadians.
There's more international intrigue.
Blooomberg
reports:
The saga might get more interesting. Among the bidders vying to build the Gordie is a consortium including Aecon Group Inc., whose proposed takeover by a Chinese company is being reviewed by Justin Trudeau's government on national security grounds. That raises the prospect of a bridge being built into Detroit by a Chinese company, for the Canadian government, under an exemption from Buy American rules, and over complaints from a U.S. company.
The Morouns, of course, are a deeply biased party here. As the operators of the Detroit River's only existing bridge, they have something of a monopoly going on international transportation in the Motor City, which has earned the family a fortune in toll collections. (The only other border crossing in Detroit, the underwater tunnel, is jointly owned by Detroit and Windsor and can't accommodate large trucks — a boon for the Morouns.)
But will Trump bother getting entangled in the Moroun family's decades-long battle with the Canadian government? Perhaps not. A spokesman for the Commerce secretary told
Bloomberg
the secretary "understands the importance of robust transportation infrastructure" to U.S.-Canada trade.
Stay on top of Detroit news and views. Sign up for our weekly issue newsletter delivered each Wednesday.