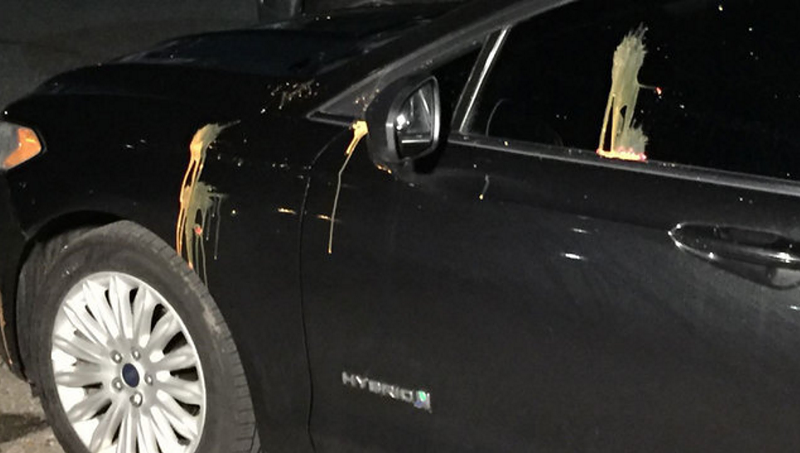 WJBK-TV
The aftermath of Wednesday's citywide 'paintball war'.
Dozens of people partook in a "paintball war" that stretched across Detroit on Wednesday, and at least six were caught by police. But the alleged actions of just one were apparently so brazen that they resulted in swift criminal charges from the Wayne County Prosecutor's Office.
Davon Williams, 22, was with about 50 other people having a paintball fight in area of Van Dyke and East Warren Avenue when he allegedly shot in the direction of an undercover Detroit police captain who was trying to mediate. This was after the captain had alerted the paintballers he was with law enforcement by turning on the emergency lights of his scout car, the prosecutor's office says. Williams missed and hit only the vehicle.
The man has been charged with two misdemeanors — assault and propelling an object at passenger vehicle. Each charge carries a penalties of up to 93 days in jail.
The undercover officer arrested at least three other people involved in that particular paintball battle, and at least two other people were arrested around Rouge Park.
Detroit police spokesman Don Donakowski told
Metro Times
yesterday that the "war" originated with a social media post that advertised "something like a paintball rally titled 'put down guns pick up paintballs.'"
Police issued a warning the day of the paintball event on Wednesday, saying that paintball guns resemble real weapons and could cause a panic. (Or, something worse could have happened, like when a Cleveland cop killed a kid holding a toy gun in 2014.)
The Instagram video below captures some of the
fun the paintballers were having
danger the paintballers were inciting.

Stay on top of Detroit news and views. Sign up for our weekly issue newsletter delivered each Wednesday.