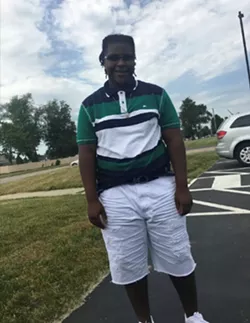 Family photo
Damon Grimes.
Lawyers for the state of Michigan are trying to drop the ex-state police trooper who was behind the wheel of a cruiser when his partner tased a 15-year-old on an ATV in Detroit last summer, causing the boy to
crash and die
.
The state attorney general's office is representing former trooper Ethan Berger in a suit brought by the family of Damon Grimes. Berger allegedly chased Grimes after he ignored commands to stop riding his ATV, and his partner, Mark Bessner, tased him out of the window of the moving cruiser in violation of MSP policy.
Bessner resigned after the August incident and the Wayne County prosecutor has charged him with murder. Prosecutor Kym Worthy declined to bring criminal charges against Berger.
In a court filing submitted yesterday in the civil case against Berger, lawyers for the state say that the Michigan State Police department found that Berger committed misconduct in the incident and subsequently fired him in late March. Berger is fighting that decision, however, and arbitration proceedings are pending.
On April 30, the filing says, "MSP advised Berger that it would no longer provide for his legal representation in this case and requested that the Department of Attorney General cease representing him." Berger is also fighting that decision, with arbitration pending.
The motion to withdraw was filed yesterday by Assistant Attorneys General Mark Donnelly, John Fedynsky, and Joseph Froehlich.
Stay on top of Detroit news and views. Sign up for our weekly issue newsletter delivered each Wednesday.