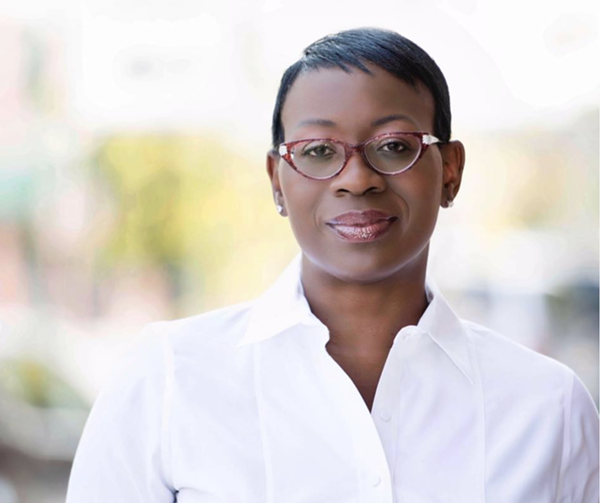 Our Revolution
president and former Bernie Sanders surrogate Nina Turner is on her way back to Detroit this weekend for an annual gathering of local progressives known as the
Douglass-Debs Dinner
.
The event, named for African-American abolitionist, author, and orator
Frederick Douglass
and union leader and former socialist candidate for president
Eugene Debs
, is the only fundraising event of the year for the
Greater Detroit Democratic Socialists of America
. Money raised will help fund the political organization's activities, which include vetting and supporting progressive Democrat candidates in the upcoming November election, running a campaign to promote single payer healthcare, and pushing reforms in the state's charter school system.
Metro Times:
How would you characterize what it is to be a progressive versus simply being a Democrat?
Nina Turner:
Certainly progressives are visionaries, they're champions of what is possible. They don't go around telling people that they have to accept the status quo, they push beyond that. They understand the needs of everyday people and they're willing to challenge the political establishment who often times in both parties believe the status quo is OK.
From a policy position, a progressive is someone who believes in
Medicare For All
— that we should have that as a country, that we should not be the only industrialized nation in the world that does not provide high quality health care to its citizens. They believe in having a living wage, and in many ways they believe in what [Franklin Delano Roosevelt] was fighting for in his second bill of rights, what we call the
Economic Bill of Rights
— from making sure people have good jobs and an education and making sure people have a place to live — those are all the things that we're fighting for in the 21st century and progressives know you can't be half measure about that, you can't talk about incrementalism, you have to go in and change the system and politicians have to use the political power that the people have given you not only to help change their conditions, but to help challenge a political system that is skewed towards the people that have the most in this country.
MT:
How divided would you say the left side of the political spectrum is right now, from the left of center to the left? Can it reconcile those differences? What is the best way forward?
Turner:
I can't speak to how divided it is, but I know there's a hunger in this country. I've been to 35 states in the last 8 months from Lubbock, Texas with Senator Sanders to, you know, this is my third or fourth trip to Detroit ... Everywhere that I go, it doesn't matter if it's an area that's considered red or if it's an area that's considered blue, there is a hunger out there among the people to be recognized, listened to, and served by people who serve in elective office. They know that they've gotten a rotten deal and the know that the system is rigged, they know that both parties have failed, both parties are controlled by the economic political elite in this country to the disadvantage of the everyday people, so in that regard, there are lots of candidates popping up who, for example, are saying I'm running corporate-donor free, particularly on the local and state levels of government, and now you even have some people in Congress saying the same thing. Why? Not because they woke up and had an epiphany, they're doing that because the people are pushing or pulling them that way — so even until we correct Citizens United and some other laws that give voice to corporations and people with the most money, the people of this country can change the system even as our politicians nibble around the edges and don't have the courage to confront things head on. So, if the citizens of this country decide we're not gonna vote for anyone who takes corporate money, then that's going to force the people running to say I'm not going to take corporate money. You're gonna see a sea change in this country … and that would not be happening but for the push of the people.
MT:
Right now it does seem that the left is starting to pull the middle of the road folks who consider themselves Democrats in its direction — but from the vantage point of the center, the argument is of course, well, if we abandon these centrist policies, we won't get anywhere because we need compromise. The left's views are unrealistic to centrists. They might even argue that you could lose the majority of the electorate's support by moving away from the center. What do you make of those arguments?
Turner:
Half-measure doesn't work. You know, when I talk to people, for example I met in a man in Austin, Texas, whose wife was diagnosed with leukemia — and they are on the upper rung of the middle class, no doubt about it — but that medicine to sustain her life costs $500 a day. A day. So it doesn't matter how middle class you are, at some point, you're gonna bump up against reality. Most Americans, whether they're solidly or barely middle class, are a few paychecks away from being totally destitute. If anything catastrophic happens to most Americans in this country they would be wiped out. So the people are going to cry out as they are right now, that incrementalism just does not work.
If you look at most of the major polling on policy measures like Medicare For All, paid family leave, investing more money in childcare, you know those kinds of quality of life issues, you will find that across the political spectrum, when you just state the case, when you state the policy position, when you talk about how that will help people and not put an ideological disclaimer on it, whether it's progressive or not, if you just talk about the issues, most Americans are with us. So our ideas on the progressive left, they're not radical, we're right in line with the people. The other side, the moderates are out of touch with the people. Like I said, Senator Sanders and I just got back from Lubbock, Texas — it doesn't get any brighter red than that. We filled the space, and they had the same concerns as anybody in, for example, my city, Cleveland, Ohio.
It's about quality of life. When I work hard can I reap what I'm sowing, am I gonna have enough money to live in my golden ages, if I have children will their future be better than mine, am I gonna continue to get shafted by a system that doesn't recognize my intrinsic value? That's not red or blue, that's not black or white, that's humanity. And so these politicians are gonna be forced to answer to the people. And that's why organizations like Our Revolution and DSA exist, because we are out there boldly on those positions and we're telling folks that they have a decision to make. You can't be on the sidelines in democracy, you gotta get involved. As brother Frederick Douglass said, "Power concedes nothing without a demand, it never did and it never will." So just reminding people that the power is in their hands and they loan their power to those in elective office, and just like they loan their power they can take it back if [those officials] are not answering to the people.

MT:
Detroit is notorious for low political engagement, and when you speak to this crowd at the Douglass-Debs dinner Saturday you will see mostly white, middle-class people. How do you engage more people of color who really stand to benefit from some of these proposals?
Turner:
Our Revolution is a multi-ethnic movement. I mean, I know the progressive movement itself has gotten the label of being majority white, but to me that's not the lens through which we should look at it, and there's an organization right in Detroit of black progressives who are hosting me there too. I mean I've met countless African-Americans and Latino, people from all walks of life, so it is a multi-ethnic coalition, and we have to continue to push that, but we gotta meet people where they are, talk to them about what progressivism is. Again, people might not necessarily like that label but when you talk about the issues, the communities that will benefit the most because they suffer the most are communities of color.
Another point to this whole thing is if people are suffering and they are only in survival mode, it is very hard for them to get engaged. And so you will find people of higher economic status participating because they have that type of time on their hands … Poor people are at the center of this and we have to say to poor people that we know it's harder for you to participate, but you must participate because you have the greatest to lose in this system that is rigged against you. So we gotta meet people where they are, we gotta talk their language, and we have to remind people who it's a little harder for to get engaged on a regular basis that their voice matters and that they have to make some time in their lives even though they're struggling to get engaged in this process.
I'm reminded of something that Eugene Debs said, when he said "the Republican-Democratic party represent the capitalist class in the class struggle. They are the political wing of the capitalist system and such differences as arise between them relate to spoils and not to principles." And that's it. That is what the masses of people are saying today, and they are waking up to that. I mean any time since the recession in 2008 that you have have
Democratic senators vote with the Republicans to relax regulations on Wall Street
and allow banks to red line, knowing they're going to discriminate against communities of color — any time you have something like that, it's hard to distinguish which party is for you and which party is against you.
And Our Revolution is pushing for candidates that the citizens in Detroit, or the citizens in Flint won't have to guess which side these folks are on. And we gotta get more of them elected because we have to get the power. And we have to get them elected on all levels — mayors, city council folks, members of the legislature, and god knows we need progressive governors.
MT:
On progressive mayors, what we have right now in Detroit is a centrist mayor who identifies as a Democrat. The city is in the beginning stages of a "revival" and what appears to be happening is a resurgence that is greatly unequal. We just had a new sports arena open — a third of it paid for with public dollars; we have a street car that was funded with tens of millions in public dollars that amounts to not much more than
a development engine
. It used to be that governments were the check on gentrification, but it has become common practice to "revitalize" cities by throwing public money at private, big-money entities on the yet-to-be-substantiated notion that their investments will create a tide to lift all boats. Is there another way to bring back our beleaguered cities?
Turner:
You have to have both. I worked as a Cleveland councilmember so I certainly understand you have to have both. But you cannot have public policies that are so one-sided that they ignore the everyday needs of the people who were born there, who were raised there, and who are still there. So no public-private should be at the expense of the needs of the everyday people. You can't build up your downtown without addressing the needs of people in the communities. As policy makers, especially on the local level, there are ways to put stipulations in these deals that force the business class to make requisite investments in communities and that is what the citizens should be demanding. That for every tax dollar, every one of their dollars that is utilized to revitalize the downtown of some area that, for example,
local labor is used
so people in those cities get work and that there's some kind of
community benefits package
in those agreements. It doesn't matter how beautiful your area is if the people in the communities are suffering. The people are going to have to wake up and not get caught up by the shiny objects but by looking at their quality of life.
The Greater Detroit DSA's Douglass-Debs dinner will be held Saturday, May 5 at 5 p.m. at UAW Local 600 in Dearborn. Tickets are $40 and they are available here.