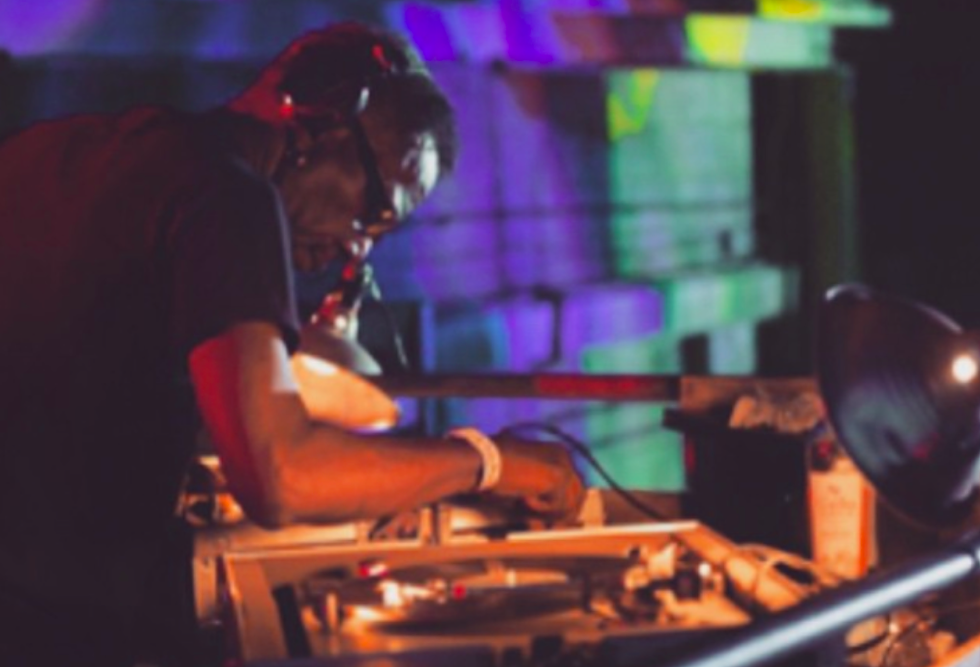 Courtesy photo
DJ John Collins performs at Tires in Detroit in 2016.
A decade before Michael Lapp came to Detroit and began running the successful DIY venue Tires, he was managing a popular underground after-hours in Brooklyn known as the BIB — or, more plainly, the Basement in Brooklyn. Located in the sub-level of a residential building in densely populated Bushwick, the BIB, as Lapp tells it, was a friend to its community — a place where the neighborhood's longtime Dominican and Puerto Rican residents and newcomers could hang out and dance to music into the early morning hours. Though its legal status was questionable — Lapp had no license to sell liquor or throw parties — the BIB kept noise complaints to a minimum, earning the support of a cop who lived in the building. The officer offered to lend a helping hand should anything ever go awry. For the two years the venue was in operation, Lapp says nothing ever did.
Recognizing the precarious nature of the unsanctioned club, Lapp contemplated trying out another location. But by 2008, the forces of gentrification were creeping further into Brooklyn, sending real estate prices skyrocketing.
"I'd leave that basement in Bushwick and there were a lot of buildings for sale for like $11 million, and it was like, I'll never have $11 million in my life," he says.
So Lapp did what just about any entrepreneurial, creative-spirited Brooklynite would do: He moved to Detroit.
Lapp began by opening another literally named illegal bar. The LID, or Loft in Detroit, located on the east side at Iron Street and Mount Elliot, started with a 30 pack of beer and grew into a consistent after-hours with a production staff, a doorman, and bartenders. But two years later, at the height of its popularity, the same forces that made Lapp reevaluate his stay in Brooklyn began to rear their heads in Detroit, and he closed up shop.
"Detroit was getting a lot more attention and the loft building filled up," he says. "So we ended that on a good note because we didn't want to be a bother to the neighborhood or the people moving in."
Lapp went in search of a standalone building, this time away from a residential area, and found a home in an old, 4,000-square-foot auto repair shop in Detroit's Islandview neighborhood. The building had no gas or electricity, and the ground was littered with transmissions parts and coated in a thick layer of oil, making it difficult to walk. The windows, obscured by how much "crap was on the walls," were covered in plastic. On his first visit to the site, Lapp recalls wading through the sea of auto parts to make his way toward one of them.
"I kind of pulled the plastic off and the light shined through and I was like, 'Well, no one else is giving me the keys to a building,'" he says.
Four months and about $10,000 later, Lapp and a half-dozen young guys had converted the place into a DIY venue. Lapp again settled on a literal name, calling the club "Tires." Over the course of the next year, it would breathe life into Detroit's underdeveloped lower east side, functioning as a film studio by day and a music venue hosting lauded techno and hip-hop artists like Juan Atkins, Kyle Hall, and the Bruiser Brigade by night. With neighbors far off,
noise
wasn't an issue, but Lapp still conducted community outreach, offering the space up as a community center and hiring locals to do door duty.
Things went smoothly throughout the venue's first year in operation. But around spring of 2016, the Detroit fire marshal paid Tires its first visit, writing up a slew of code violations — from electrical work done without a permit to improper egress. Determined to keep the space, Lapp spent thousands of dollars to meet each requirement laid out in a long checklist, finishing up just in time for five days of events planned to coincide with that year's Movement Music Festival. Hours before the first event, set for Wednesday night, Lapp says a different inspector showed up, demanding the removal of an overhanging heater. But with the holiday weekend approaching, the city said it wouldn't be able to check whether the work was complete until the following
Tuesday,
after Movement was over. This set into motion a days-long game of cat-and-mouse, in which Lapp would move each party from location to location, only to get busted by the police each time.
"Every time the needle dropped, an officer in tactical gear came to the door and asked 'Where's Michael Lapp?' and we would have to pack up a 24-foot U-Haul and move the party," he says. "It felt very vindictive."
After losing thousands on the failed parties, heavy rains hit the region, and the neighborhood's clogged storm drains caused Tires to flood. With much of the property and his equipment destroyed, Lapp closed Tires for good.
Strained relationship
The end of Tires marked a new low in the revitalizing city's relationship with the creative community many
credit
with having helped fuel its rebirth. It came as the nonprofit group, the Detroit-Berlin Connection, was encouraging the city to loosen laws surrounding
night life
with the idea that Detroit,
the birthplace of techno music
, could, like Berlin, become a hub for techno tourism and bring in up to hundreds of millions of dollars in additional revenue each year.
"If Detroit can't advocate for a space like Tires, that [shows] Detroit doesn't understand its own legacy in some ways," Garret Koehler, the founder of music collective Assemble Sound, said in a short documentary created after the venue closed.
Jeff Heron, a lawyer and who patronized the club, noted that "techno was invented" in places like Tires, and that that the energy that fuels the genre's artists cannot be found "in a nice building."
Tires
was
just one spot or event to go down in a string of crackdowns in 2016 and 2017. Last year during Movement, cops stormed an annual party by renowned DJ-producer Theo Parrish, "threatening hosts and attendees of color with violence and incarceration," he said in a
social media post
published after the incident. "Officers openly told attendees that they 'wanted to scare' people who they put into police cars ... for infractions that were punishable by fines at best." The reaction came as a shock to guests, he said, as the so-called Music Gallery parties were intended to "create a powerful musical experience devoid of the distractions of phones, photos, [and] drugs."
Over that same long weekend, Grenadier, a popular underground after-hours that helped fill the void left by Tires, closed its doors due to what former owner Kristen Zahr describes as ongoing harassment from the city and its police department.
"Basically every time I would pass a fire inspection or a building inspection, the very next big party they would come in there at midnight or 2 a.m. to give me a ticket for something silly like an extension cord," says Zahr. "Lights would have to come on, customers [would] leave."
"Between court costs and constant party shutting down it was impossible [to stay in business]."
Many in the nightlife community have attributed the increased law enforcement and government scrutiny of parties to Detroit's post-bankruptcy redevelopment.
"Before there was no one here to disturb," says Jason Huvaere, founder
and
president of Paxahau, the promotion company behind Movement. "Now we're dealing with new people from new places."
Others have chalked it up to increased resources. It has always been city government's job to ensure buildings are up to code and to address nuisance complaints, but now, with its fiscal house in order, Detroit is better equipped to fulfill those responsibilities. It's worth noting, however, that amid the party crackdown, the city, citing a shortage of inspectors, allowed an estimated 50,000 residential rental units to stay in operation despite the fact that they
hadn't been properly inspected
and were likely in violation of building safety codes. (The city recently launched an initiative to bring all of its
residential rental properties up to code
by 2020.)
"From an underground perspective, the city is growing up and around us and pushing us back down," says Huvaere. "Arts and culture have always been like the side issue to development and there are a lot of people who put it out in front of their conversation, but not out in front of their policies and priorities."
For Huvaere, whose company puts on about 50 parties each year in addition to producing Movement, there are two main obstacles holding Detroit back from being a year-round hub for electronic music: The 2 a.m. bar closing time and the lack of spaces in which to hold events.
"Non-conventional venues and hours of operation are critical in the dance music culture," says Huvaere. "But Detroit has never established a late night entertainment permitting process … [and] though it's full of empty spaces, they're not up to date, and they've been empty for so long that getting an occupancy permit can prove challenging."
He points to New York, Los Angeles, and Miami as cities where it's far more easy to secure different types of venues and party later into the night without issue.
"Whether it's a regular bar or club or an event space that is up to code and can stay open late, or a clear application process that includes safety, liquor licensing, or capacity levels — there's a very established protocol and it would put Detroit in a very competitive position for entertainment if those processes existed here," he says.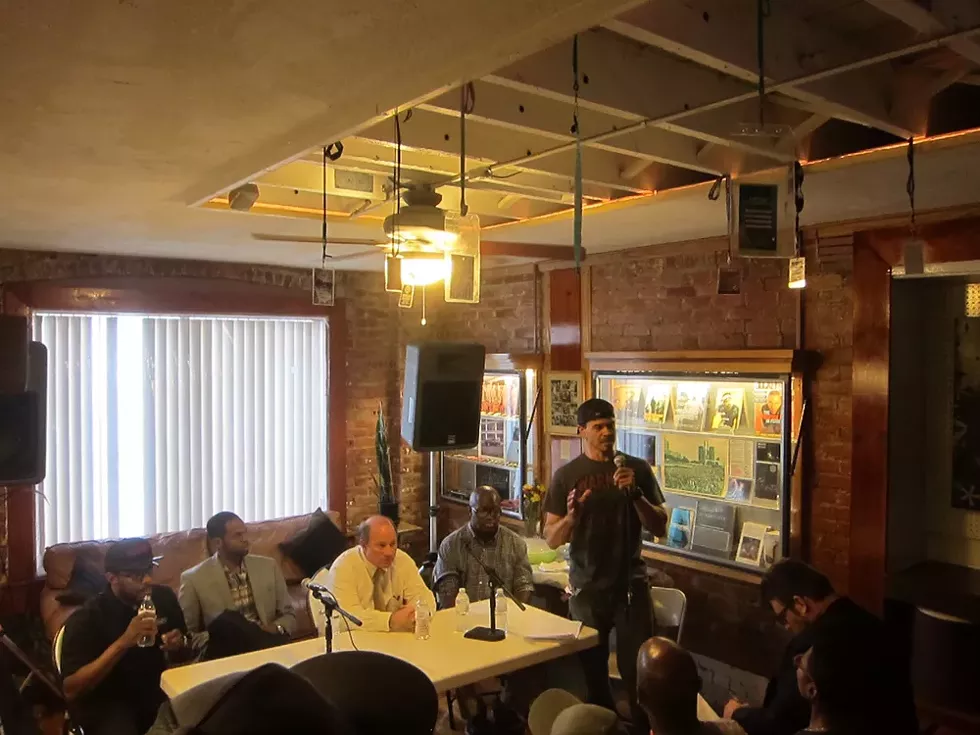 Raphael Merriweathers Jr.
Detroit Mayor Mike Duggan visits Submerge, home of acclaimed label Underground Resistance, to hear a pitch to make the city an international hub for techno and nightlife.
New approach
In the past year, since
Mayor Mike Duggan met
for the first time with some of Detroit's DJs, producers, and promoters at Submerge, home of acclaimed techno label Underground Resistance, the city has taken steps to create an environment more conducive to nightlife. The Duggan administration has thrown its support behind a bill in the state Senate that would allow the city to
extend last call to 4 a.m
. It is working on an ordinance that would entice developers to soundproof music venues. But most importantly for the nightlife community, Duggan's director of customer service has taken on the role of nightlife liaison.
Known colloquially as the "Night Ambassador," Adrian Tonon has for the past year mediated conflicts between venues operators and their
neighbors,
and helped party throwers overcome bureaucratic hurdles. He's also taken two trips to Berlin — one of them
just last week
— to see how that city has turned techno into an economic engine.
"His role is mission critical for what we're trying to do," says Angie Linder, president of the Detroit-Berlin Connection. "He's helping make it so these venues are working legally by connecting all the dots."
Tonon's background in government and music promotion makes him uniquely suited for the role, and he's had success in getting more party throwers to take their underground activities above board. From
Tonon's
perspective, it's a win-win: By checking all of the regulatory boxes, parties don't get busted, and the city manages to harness the creative energy that sets it apart while keeping people safe.
"At the end of the day, the mayor's objective is to create a city environment folks want to live, work, and play in sustainably — not to where you create a space that's really cool and you get displaced," he says. "Hopefully this is a new day and we're going to reestablish Detroit as a creative epicenter."
But he says the city won't compromise the well-being of its citizens to make that happen.
"Safety is number one," he says. "If you're caught [hosting an illegal party,] you're going to get a ticket and you're going to go to court. We have to enforce our safety codes because it's not just about that promoter, it's about the people they're bringing into that space. We have to protect them."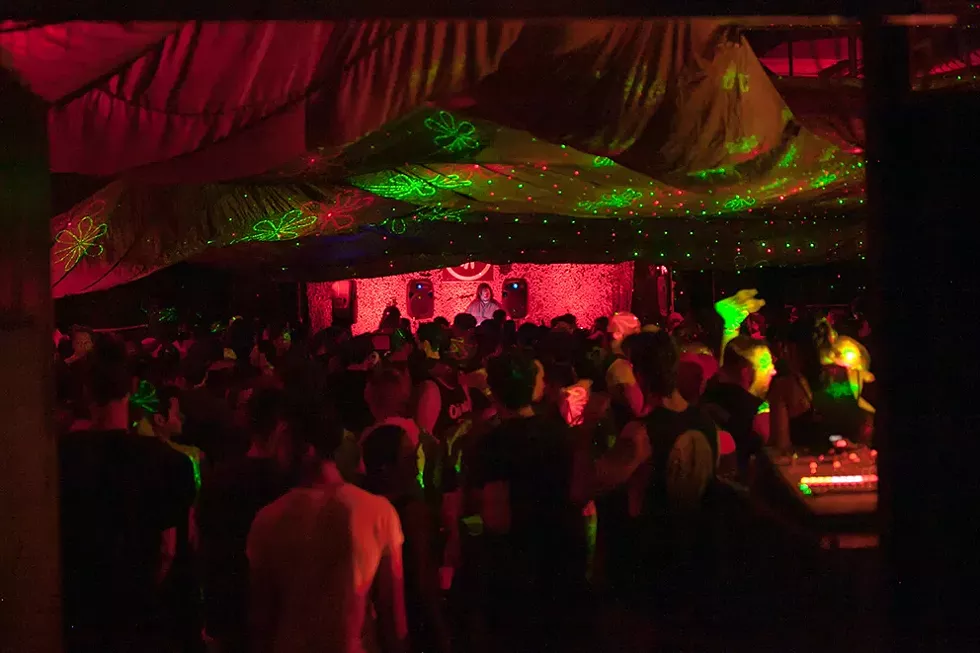 Amy Hubbarth
Detroit techno label Interdimensional Transmissions throws its famed 'No Way Back' party at Tangent Gallery during Movement Electronic Music Festival in 2016.
The plug
In the city's Media Services Department, deputy director Linda Vinyard has expanded her duties to make it possible for the city to attract more events. She's now head of Detroit's Office of Special Events and Film, where she serves as the
point-person
for anyone hoping to host an event. Promoters can dial Vinyard directly, and she'll walk them through the various permits and approvals they'll need for their party to go smoothly.
This year, with Tonon serving as the go-between for the city and its nightlife community, Vinyard says there's been an uptick in the number of creatives soliciting her advice. Recently, it was a guy trying to host an event that involved, as Vinyard describes it, "people sitting around on tires in a lot where there's an old abandoned garage."
"I'm trying to figure out why in the world would you even want to be there," Vinyard laughs as she recounts the story, but she went to work helping him execute his vision nonetheless.
First, Vinyard told the party thrower he'd need to find out who owned the land and get permission to hold events there. (Had the lot been owned by the city, Vinyard says she could have helped him access the property through a lease agreement.) Then, she advised him on how to legally serve alcohol on site.
"I got him in touch with the liquor license division, but I told him the best thing to do is not to sell liquor — if you want to make it into a beer garden, you can serve beer and wine — but the best thing to do would be to sell tickets [instead]," she says.
Once an event is greenlighted, Vinyard logs it, informs Detroit police it has received the proper approvals to take
place,
and gives them contact information for the person in charge should any issues arise.
For Vinyard, her role in special events is about "making people feel comfortable about expressing their creative energies and helping them complete their vision — not trying to stop them."
Next steps
Ahead of last week's Movement festivities, the artists, promoters, and venue owners of Detroit's North End and New Center neighborhoods invited Duggan back to the area to suggest further steps the city could take to facilitate their endeavors.
The meeting, held this time at Tangent Gallery and coordinated by the Detroit-Berlin Connection, could not have come at a better time. Tens of thousands of tourists were about to flood Detroit in the name of techno, providing an economic boost to its hotels,
Airbnbs
, bars,
clubs
, and eateries. (Paxahau says about 75,000 to 100,000 tickets to Movement are sold each year, with half of them purchased by out-of-towners.) Ultimately, event coordinators aimed to convey that, with the right support, Detroit's creatives could draw a similar level of tourism to the city year-round. More specifically, they envisioned hosting visitors in the North End and New Center, the home of clubs and venues like
Tangent Gallery
,
Marble Bar
,
Northern Lights
, and the
Jam Handy
, and artists like Moodymann and those of Underground Resistance.
"We want this area to be a designated creative corridor so when international and other people travel to Detroit they know it's an activated area for nightlife and techno with extended operating hours," Linder says.
Additional issues raised at the meeting included difficulty with building safety inspections (some venue operators had trouble getting inspectors to show up as scheduled, others, like Lapp and Zahr, were seeing citations pile up with each inspector's visit) and the need for an online checklist to outline the various requirements for holding a one-time event. Attendees also pitched the mayor on providing creatives with vacant buildings they could come to own and reactivate through "sweat equity." The city owns nearly 100,000 land parcels, Duggan said, though he acknowledged that the Land Bank reserves about 10 percent of them for "development zones" — places deemed fit for big, pricey projects.
The mayor generally appeared receptive to their concerns. He expressed support for a special events one-sheet and said he would work with the Building, Safety Engineering
and
Environmental Department to ensure that the word of a first inspector is binding.
"We don't want you to spend emotional energy fighting city government, we want you to put emotional energy into your creative pursuit," he said to applause.
The meeting was a sign of thawing tensions between the city government and its night-owl creatives. Further evidence came over Memorial Day
weekend,
when Tonon and Linder say not a single Movement after-party was
shutdown
. At least a dozen ancillary festival events had properly registered with the city, Tonon said.
Things are also looking up for Lapp, who after his negative experience with the city on the lower east side says he's looking forward to opening another club elsewhere in Detroit, this time with the right permits in place to ensure longevity.
But in the creative hub that is the area of the North End and New Center, the sanitizing threat of development looms. The QLine is spurring new business activity along Woodward, Henry Ford is planning an expansion, the Pistons are building a practice facility to be closer to Little Caesars Arena, and luxury condos are going up. Linder knows she and her creative cohorts will have to fight if they want to avoid being displaced by the same forces that drove Lapp from Brooklyn a decade ago.
"We want to preserve what we have and grow it without any gentrification," she says. "We don't want people coming in, raising the rent, redeveloping into high-fashion condos. We like the feel of the neighborhood. Maybe it's not as polished or shiny as other parts of the city. We like it that way."
Stay on top of Detroit news and views. Sign up for our weekly issue newsletter delivered each Wednesday.