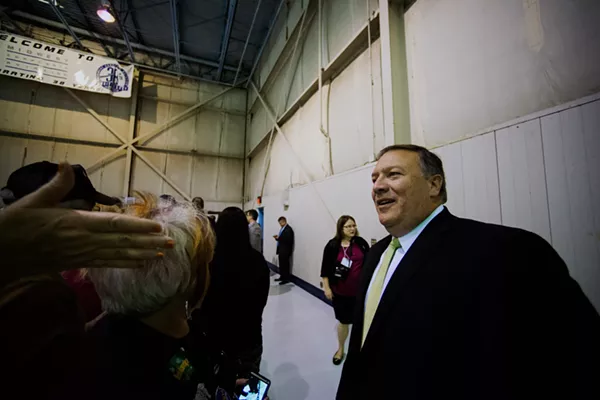 The next Trump cabinet ghoul to descend upon Detroit will be Secretary of State Mike Pompeo.
Pompeo is set to speak at the
Detroit Economic Club
this coming Monday. His talk, "America's Economic Revival" is scheduled for 12:30 p.m. in the atrium at Ford Field. He'll be the fourth sitting secretary of state to address the group in its more than 80-year history.
Pompeo
replaced Rex Tillerson
as secretary of state in April, and before that served as director of the CIA. Prior to Trump's presidency, Pompeo served in Congress, where he represented a portion of Kansas and made a series of controversial statements that prompted
Slate
magazine to last year assert that pompeo
"sees foreign policy as a vehicle for holy war."
The outlet reported that Pompeo falsely accused Muslim leaders of failing to condemn terrorism after the Boston Marathon bombing.
Slate
reported that Pompeo also once headlined a "God and Country Rally" in which he quoted a controversial reverend, saying, "America had worshipped other Gods and called it multiculturalism. We'd endorsed perversion and called it an alternative lifestyle."
Last week, Housing and Urban Development Secretary
Ben Carson visited Detroit
to open the first in a series of so-called EnVision Centers, or neighborhood service hubs that he claims will help get people on the path to "self-sufficiency." The hubs reportedly include
no additional monetary support
from the federal government.
Stay on top of Detroit news and views. Sign up for our weekly issue newsletter delivered each Wednesday.