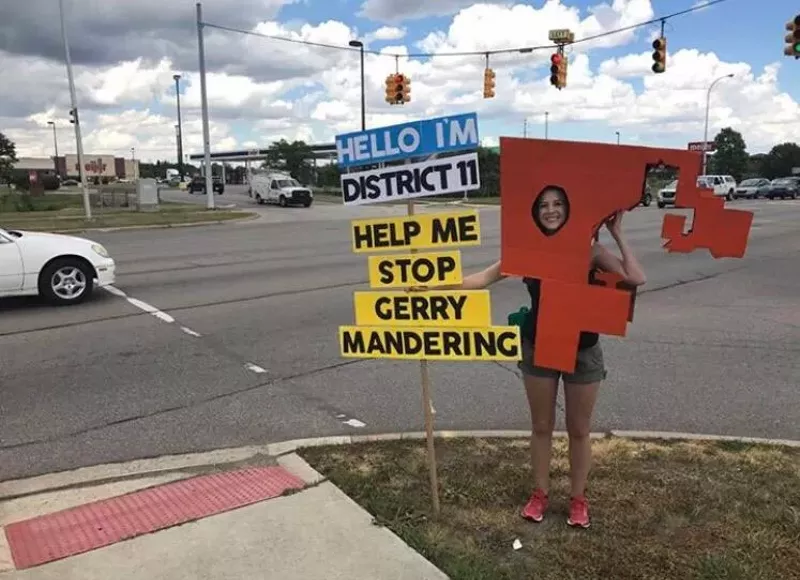 Courtesy Voters Not Politicians Facebook
A Voters Not Politicians volunteer dressed up as a gerrymandered district.
The Michigan Supreme Court will consider whether to allow voters to vote on an overhaul to the state's redistricting process.
The non-partisan group Voters Not Politicians created a ballot proposal that would ask voters to approve the establishment of an independent redistricting committee to draw legislative lines in Michigan. The Republican-led group Save Michigan's Constitution has been asking the courts to block that effort. Last week, the Michigan Court of Appeals
unanimously ruled that the proposal can go on the November ballot
. It also ordered the Michigan Board of State Canvassers to "take all necessary measures to place the proposal on the November 2018 general election ballot."
The Michigan Board of State Canvassers will consider the ballot proposal at its June 20 meeting. It must certify the ballot proposal before it can go in front of voters, and the court challenges are delaying that process.
Voters Not Politicians has submitted around 400,000 petition signatures to get the question before voters. The proposal would create a 13-member redistricting commission made up of four Democrats, four Republicans, and five independent members who are not affiliated with any major political party to draw legislative lines.
Last week, the three-judge lower court panel rejected Save Michigan's Constitution's claims that the law was too vague and required a general amendment to the Michigan constitution.
Michigan legislators currently draw the districts, but that's led to gerrymandered districts in which the balance of power isn't reflective of the vote.
Stay on top of Detroit news and views. Sign up for our weekly issue newsletter delivered each Wednesday.