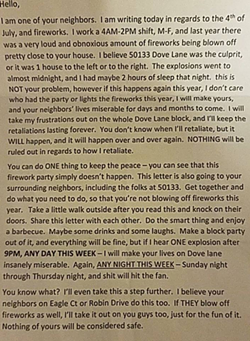 Facebook Post via Tony Ivanaj
On Sunday, a resident in Chesterfield Township was shook after receiving a threatening letter left on his doorstep, which detailed a vague plot for vengeance from a neighbor after being disturbed by the block's fireworks celebration last year, FOX 2 reports.
The letter opens with a list of grievances from the anonymous author, saying, "I work a 4 a.m.-2 p.m. shift, M-F, and last year, and there was a very loud and obnoxious amount of fireworks being blow off pretty close to your house." The letter goes on to say, "The explosions went to almost midnight, and I had maybe 2 hours of sleep….I don't care who had the party or lights the fireworks this year, I will make yours and your neighbors' lives miserable for days and months to come."
The author then ups the ante with veiled threats, if certain demands are not met. If the fireworks celebration goes on after 9 p.m. this year, the author warns the subdivision, "You don't know when I'll retaliate, but it WILL
happen,
and will happen over and over again. Nothing will be ruled out in regards to how I retaliate." That's what we call
fightin' words
.
This letter was sent to a few homes on Dove Lane. One of the letter recipients, Tony Ivanaj, posted the letter to local Facebook groups and the story quickly gained traction. Ivanaj told FOX 2 that last year's celebration did not violate the ordinance.
The Chesterfield Township Police have since
reposted the ordinance guidelines
for fireworks celebrations. Fireworks are permitted from July 3-5 until midnight.
The full letter can be read
here
.
Stay on top of Detroit news and views. Sign up for our weekly issue newsletter delivered each Wednesday.
Eleanore Catolico is a summer intern at
Metro Times
.