Twitter, @seiulocal1
Detroit janitor represented by the SEIU joins in announcing vote to strike if demands for $15-an-hour minimum wage aren't met.
Approximately 1,700 Detroit janitors, many of whom work in downtown skyscrapers, have threatened to strike if contract negotiations don't produce a pathway for them to earn at least $15 an hour.
The Local 1 branch of the SEIU announced Monday night that its membership voted overwhelmingly to authorize an industry-wide strike if that demand is not met in a 3-year agreement under negotiation. The janitors' current contract is set to expire July 31. They start at a wage of $9.45 an hour.
"It's so sad that our janitors work in [these] buildings and downtown is booming — and they did build downtown up, which is a good thing — but you left us behind," says Pamela Owens-Moore, who has worked in downtown Detroit as a janitor for 31 years. "They're doing like two Detroits and we want one Detroit where ain't nobody left behind."
The janitors gathered in front of One Campus Martius Monday night, a building which they clean, to announce the strike threat. Most of the union's janitors work in buildings throughout downtown Detroit, though there are reportedly 500 at Detroit public schools and about 200 at Detroit Metro Airport.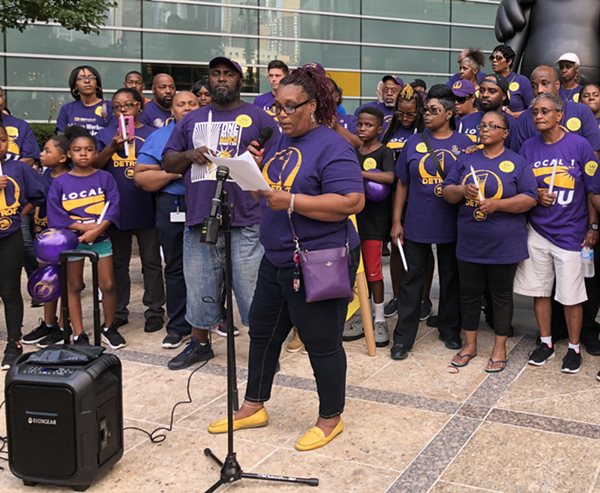 Courtesy photo
Pamela Owens-Moore.
Owens-Moore started working as a janitor at the Renaissance Center in the late '80s at a rate of $7.35 an hour. In the early years, she says she had to rely on food stamps and Medicare to make ends meet. Though she still lives paycheck to paycheck, she's actually better off than most of the other 1,700 janitors in her union — earning $15 in her current position at the Millender Center.
"It's sad it took me 31 years to get to it, and they holding me back and they holding them back," she says, referring to janitors just starting out. The union says median annual earnings for the janitors are so low that many need public assistance. Most of the Detroit janitors earn between $9.45 and $12.45 an hour, the union says.
Owens-Moore hopes the contract negotiations yield a $1-per-hour raise for longtime employees like herself.
Most of the janitors are employed by ABM Janitorial Services of New York City, GDI Omni of Southfield, and Professional Building Maintenance/Preferred Building Services (PBS/PBM) of Southfield, which covers buildings owned by Gilbert's Bedrock.
"While downtown is booming again, janitors are fighting for at least a $15 wage to ensure they can support their families and their neighborhoods," a Monday morning release from the union said.
Detroit Councilwoman Janeé Ayers and state Rep. Stephanie Chang appeared at the Monday night event in support of the workers. Detroit City Council last month voted unanimously in favor of a resolution supporting the
$15 minimum wage effort
, but the resolution was purely symbolic.
Stay on top of Detroit news and views. Sign up for our weekly issue newsletter delivered each Wednesday.