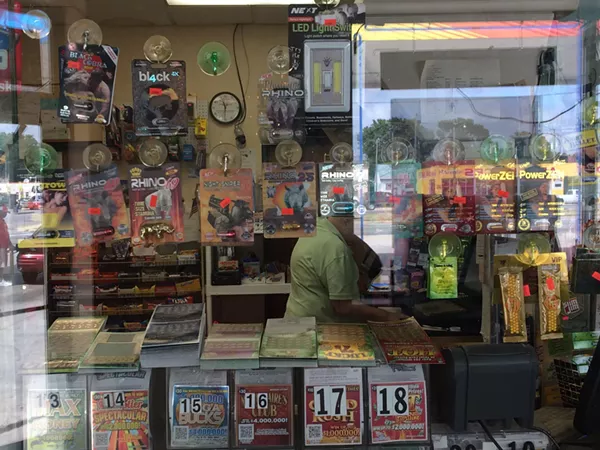 Courtesy photo
"All natural" supplements sold in a Detroit Sunoco.
More than 60 Detroit Sunoco gas stations
have been hit
with a lawsuit over allegations that they are selling Viagra as "natural male enhancement" pills. The lawsuit was filed on behalf of Outlaw Laboratory, a Houston-based supplement company. Outlaw's representatives argue that it is an unfair and dangerous business practice.
The lawsuit accuses Sunoco of buying cheaply manufactured pills from China containing sildefanil, which is the key ingredient used in Viagra. Its side effects
can include headaches, stomach pain, memory loss, dizziness, and the inability to tell the difference between blue and green, among others
.
The lawsuit identifies potential for penile damage (blood clots and amputation) as well as potential for heart attacks and strokes. The suit claims that people have died from taking the pills believing them to only contain "only ginseng, cinnamon, goji berry, daisy root and parasitic caterpillar fungus."
The suit alleges that the pills were sold as a variety of "Rhino" products,
many of which can be also purchased on sites such as Amazon
. Despite being sold on Amazon and at numerous gas stations, the brand seems to lack an identifiable manufacturer or official website. The packaging for most of the
pills promises "100 percent genuine quality" and "no headaches."

The U.S. Food and Drug Administration previously
advised
against the purchase of one brand for containing ingredients found in Viagra, including sildefanil.
The FDA lists
a variety of Rhino pills, among other sexual enhancement products, as being tainted.
Other ingredients
found in Rhino supplements, such as tadalafil, can lead to dangerously low blood pressure if taken in conjunction with medication containing nitrates. That includes diabetes, high blood pressure, high cholesterol and heart disease medication.
According to Robert Tauler, an attorney involved in the case, retailers have attempted to subvert FDA notices by changing the names of the products. "Our office has identified 20,000 name variations consistent with such a scheme," Tauler says in a statement. "It's a shadow pharmacy and these retailers are profiting off of harmful products they have no legal right to be selling. They're putting people in danger and must be held responsible. Our goal is to eliminate these products from the marketplace."
Jacob Stocking is a summer editorial intern at the
Metro Times
.

Stay on top of Detroit news and views. Sign up for our weekly issue newsletter delivered each Wednesday.