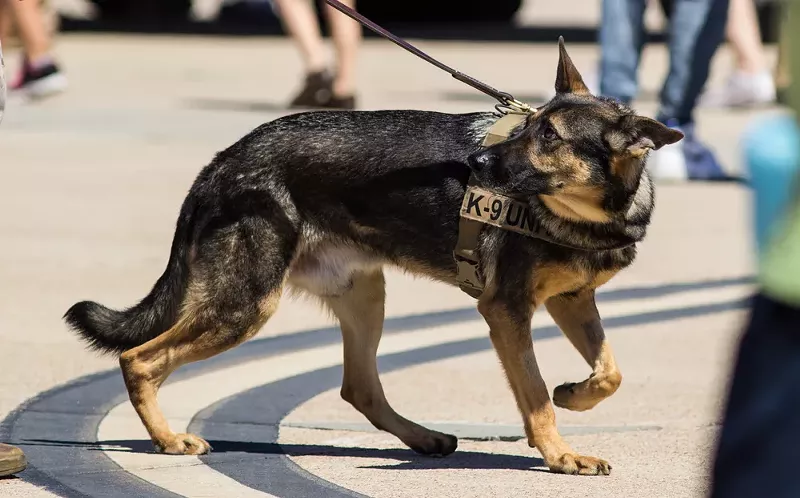 Alexander Dingley / Shutterstock
A Detroit K-9 officer is under investigation for the death of a working dog that was left unattended in a hot car.
The incident occurred on June 26 when the K-9 handler left the donated black German Shephard locked in the police SUV on site of the K-9 training grounds. The handler started the vehicle using a remote starter and checked on the dog in intervals before leaving to go off-site with another officer to pick up a vehicle. When the officer returned 40 minutes later, the canine was near death after withstanding the vehicle's internal temperature on the hot summer day.
The dog died a few days later of cardiac arrest.
As reported by
Fox 2
, commander Darin Szilagy of the Detroit Police K-9 Unit says the officer did not follow the policy, which states that unattended K-9s must be checked on every 30 minutes.
It also appears the safety measures that the SUV was equipped with malfunctioned. Under working circumstances, when the vehicle's internal temperature reaches 95 degrees, the windows would have lowered and the fans would have turned on.
"Unfortunately the officer knew there were some inconsistencies and the inconsistency wasn't reported so it could
have
be diagnosed," Szilagy said.
Upon investigation, the DPD learned that there were inconsistencies throughout the fleet of K-9 vehicles. The officer of 10 years is scheduled to attend a hearing which will determine the discipline that he receives for the K-9's death.
Stay on top of Detroit news and views. Sign up for our weekly issue newsletter delivered each Wednesday.