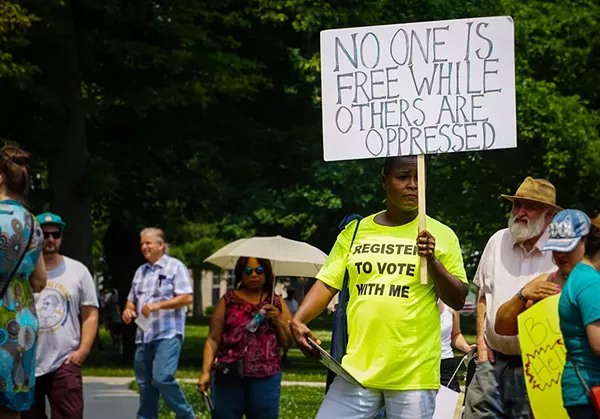 Stephanie Kenner / Shutterstock.com
Straight-ticket voting has been around in Michigan for more than 126 years. But Republicans in the Michigan legislature changed all that in 2016, drafting a law that was signed by Governor Rick Snyder to abolish the practice.
From then on, it's been a fight mostly between Democrats and Republicans to get the old voting strategy back — and keep it. For now, Republicans and Secretary of State Ruth Johnson have the last laugh, having successfully convinced two-thirds of federal appellate judges to rule against straight-ticket voting.

Before that happened, it seemed like it was a win for supporters of straight-ticket voting, which allows voters to select candidates from a particular party in all races by simply marking a single box, speeding up the voting process. On Aug. 1, U.S. District Court Judge Gershwin Drain issued a permanent injunction on the straight-ticket ban, arguing that it "presents a disproportionate burden on African-Americans' right to vote."
Mary Ellen Gurewitz, an attorney with the Detroit law firm Sachs Waldman, which fought on behalf of plaintiffs to keep straight-ticket voting on Michigan ballots in district court, thought that was the end of the matter. After Secretary of State Johnson filed an appeal on Judge Drain's decision, Gurewitz told The Jewish News "it's very unlikely to succeed."
But succeed it did.
On Sept. 5, federal appellate judges in the 6th Circuit Court of Appeals banned straight-ticket voting for the upcoming November election in a 2-1 ruling, arguing that doing so would encourage Michigan voters to become more informed about the candidates they are voting for.
Gurewitz thinks this opinion is ludicrous. "The state has repeatedly asserted that straight-party voting is blindly voting for the candidates of one party, and judge [Drain] rejected that — there's no basis for saying that," she says.
Although she falls into a camp with many other experts who believe eliminating straight-ticket voting will not increase voter's understanding of the candidates, there's a larger issue looming over the removal of this voting strategy: It will increase wait times at the polls.
"It will take each voter more time to complete their ballot, which will lead to longer lines," Oakland County clerk Lisa Brown tells Metro Times via email.
Brown says she believes getting rid of straight-ticket voting will only add to the already burdensome obstacles preventing voters from casting their ballots.
Sam Corey
Voting poll in Hamtramck.
The Sept. 5 ruling came just in time, with the November ballots finalized two days later, on Friday, Sept. 7. Gurewitz had just enough time to issue an emergency appeal to the U.S. Supreme Court on Thursday. A last-minute request by attorneys from the Michigan State A. Philip Randolph Institute to keep straight-ticket voting in November was denied.

"Justice Ginsberg and Justice Sotomayor would have vacated the stay, and thereby reinstated the injunction. But the other justices would not," Gurewitz says.
In addition to elongating wait times, critics of the ban see it as a way to specifically marginalize African-American voters because they tend to use straight-ticket voting at the highest rates. And because African-Americans tend to vote Democratic, critics also believe it will disproportionately hurt Democrats.
Judge Raymond Kethledge, one of the two judges who voted in favor of Secretary Johnson's appeal, quickly dismissed this belief. In his concurring opinion, he wrote "equating policy motives with racial ones" is a false equivalent.

But Kurt Metzger, founder of Data Driven Detroit and mayor of Pleasant Ridge, strongly disagrees. The mayor presented his research on straight-ticket voting in district court before Judge Drain, supporting his Aug. 1 decision to reinstall straight-ticket voting. Metzger's data found that communities with the highest share of African-American voters have the highest rates of using straight-ticket voting.
"We talk about a much higher rate of African-Americans voting on straight-ticket voting overall, and we know that, from Pew studies, African-Americans tend to vote much more heavily Democratic," Metzger says. "In that respect, it would be partisan."

Gurewitz agrees the move would hurt African-American communities.

"If you have 80 percent of the people in a jurisdiction that previously voted straight-party and 80 percent of the voters are taking more time, that's going to make a much bigger difference than in a place where 30 percent of the voters are taking more time," she says.
The ban is also likely bad for Republican voters too. As Metzger explains, both parties have leveraged this voting technique for a long time.
"It's not a Democratic thing or a Republican thing," he says. "Ottawa County has a high straight-ticket voting rate and it tends to be Republican."
"The fact that almost half of Michigan voters use it is incredible to me," he says.
Yet it's not presumptuous to think that Republicans decided to ban straight-ticket voting because they thought it would help them defeat Democrats. In fact, senior GOP officials have said as much.
"I deposed Ronna Romney McDaniel," Gurewitz explains. "She said that, when she was running for [chairwoman] for the Michigan Republican Party in 2015, that it was her passion to eliminate straight-party voting, and that one of the reasons was that she thought it would help Republicans win."
Many supporters of the ban, including Governor Snyder, have argued that Michigan should be like other states — the 40 that never had straight-ticket voting, or have banned it altogether.
Yet, as Metzger argues, Michigan representatives rarely apply this logic to other topics — such as Freedom of Information Act laws, which are among the most restrictive in the nation.
"I never heard [Senator Arlan] Meekhof say, 'Well, gee-whiz, look at 50 other states that have made transparency very important, and that now we should,'" Metzger says. "Why aren't we like every other state in a number of other characteristics?"
Thanks to hot-button ballot issues like legalizing recreational marijuana and ending gerrymandering, November's election will likely draw large crowds, giving us our first opportunity to witness what it will mean when there is this added barrier for Michiganders, and specifically black Michiganders, to vote.
"We anticipate high turnout so this will make it even more challenging for people," explains Gurewitz.
To cut down on waiting times, Oakland County clerk Brown encourages voters who qualify for it to vote absentee.
You can read the most recent decision from the U.S Circuit Court of Appeals, here.

Sam Corey is a Metro Times fall editorial intern.
Stay on top of Detroit news and views. Sign up for our weekly issue newsletter delivered each Wednesday.