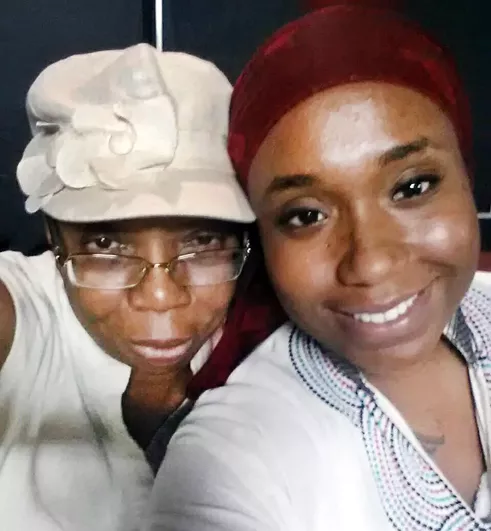 Courtesy photo
Rhonda Anderson and Siwatu-Salama Ra.
(Ed Note: Read today's story on Siwatu-Salama Ra's appeal here.)
As the gears
slowly grind on her appeal
, Siwatu-Salama Ra waits in the Huron Valley Correctional Facility women's prison. Her mom, Rhonda Anderson, tells
Metro Times
that Ra in May gave birth to her son, Zakai Siklar Ra Muhammad, while in Michigan Department of Corrections' custody. Anderson describes him as a "healthy, beautiful baby."
"We were all so worried because during the last two months [of her pregnancy, Ra] was so depressed, she cried so much, and here's this beautiful boy who is just gorgeous and he smiles all the time," Anderson says.
Anderson and Ra regularly talk on the phone and Anderson says her daughter is "wiser than I ever could have imagined." That brings Anderson some comfort, but she adds that Ra is also "depressed and sad."
"She told me the other day — she said her body yearns for her children," Anderson says. "Her brain searches for them, and I've never heard anything like that. Her body and her brain — she just misses her children."
Courtesy photo
Siwatu-Salama Ra and her daughter pictured on vacation with her first child.
Ra was pregnant at the time of her sentencing and her attorneys requested that she be allowed to serve the sentence after she gave birth, or be allowed out on bond when Zakai was due. Wayne County Circuit Court Judge Thomas Hathaway denied those motions.
Anderson says Ra is grateful for the outpouring of support she's received. The case made national headlines, and Anderson says there have been rallies in support of her as far away as San Francisco. When Anderson's eldest daughter recently visited California, she found a "Free Siwatu" poster hanging on the wall of her hostel.
Outside of prison, Anderson struggles with the fact that Ra is serving time for protecting her — "it makes me feel a different way," Anderson says.
"I can't be no better than she is," Anderson adds. "She tells me a hundred times, 'I want [to] go home, I've got to get out of here.' We talk about being innocent and how the hell she can end up in that place when she's innocent."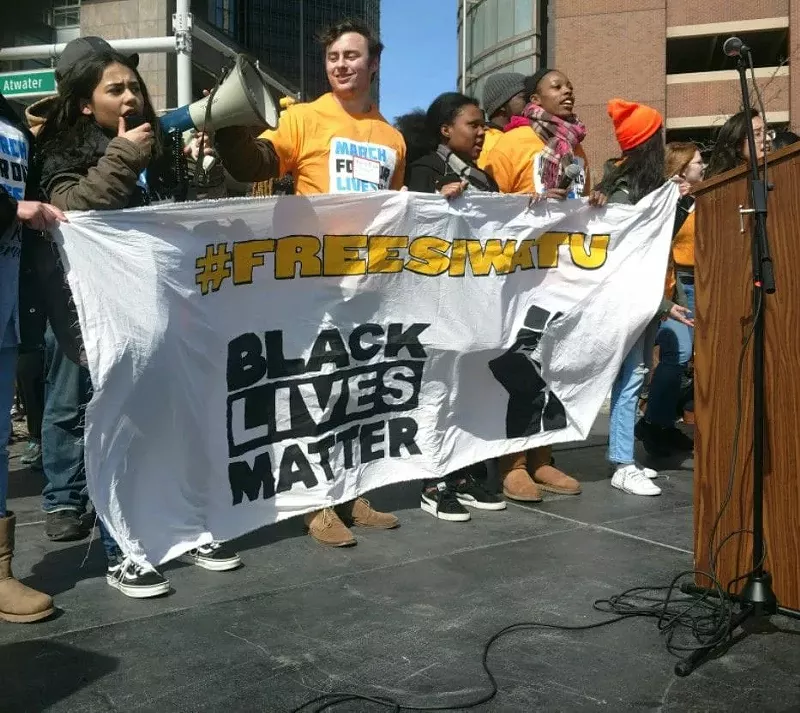 Courtesy photos
Activists hold a #FreeSiwatu banner at the March for Our Lives rally for gun reform on March 24, 2018 in Detroit.
But Anderson says she appreciates those who have been supportive of her and the family, including the Sierra Club, where she works.
Ra is also anxious over the appeal. When her previous attorneys last asked Hathaway to allow Ra to go home to give birth, the family planned a celebration to welcome her, but Hathaway didn't release Ra.
"We put up decorations and the decorations are still up," Anderson says. "We won't take them down because maybe it will seem like we're giving up."
Stay on top of Detroit news and views. Sign up for our weekly issue newsletter delivered each Wednesday.