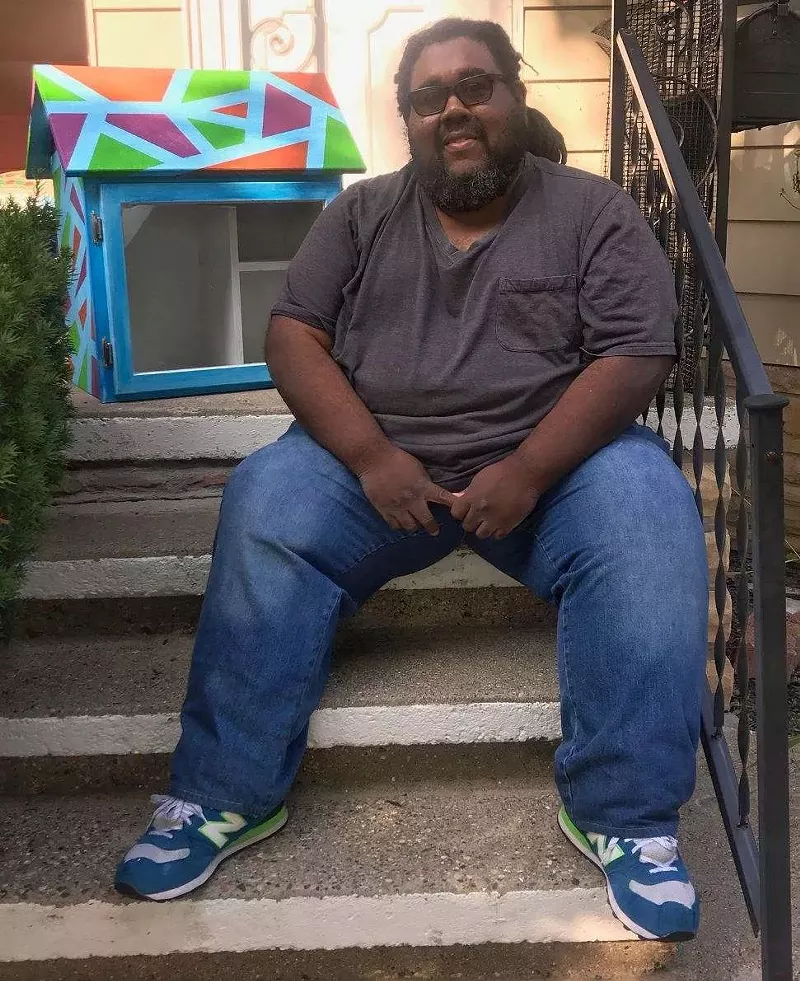 Courtesy of James Chism
James Chism, Harper Woods resident and participating artist in the Little Library prize, sits with the library he painted, called Breaking Barriers, Smashing Ceilings.
Take a book; share a book. Residents of Detroit's Livernois section will be seeing a lot more of this prompt due to the 19 birdhouses for books that will decorate the neighborhood known as the Avenue of Fashion for the remainder of Detroit's Month of Design.

Inspired by Grand Rapids' annual ArtPrize event, Detroit Little Libraries, a grassroots campaign, handed out 19 wooden, two square-feet boxes to local artists and asked that they adorn them with creativity. The results are on display inside businesses around Livernois from Sept. 15-29, after which the little libraries will be distributed to community members to bring free literature to a largely underserved part of the city.
"We're campaigning to promote both reading and literacy, especially among the youth through the little libraries," said grassroots activist for Detroit Little Libraries Kim Kozlowski, who is also the higher education reporter for The Detroit News.
There are more than 400 little libraries throughout the Metro area, Kozlowski said, including one at every Detroit public school.


The public is invited to vote for their favorite little library on a website developed by locally-based Detroit Labs. The artist responsible for the most popular little library will be awarded $1,000, provided by a.gen.cy, a Detroit-based artist-directed advertising agency. There are cash prizes for the runner-ups as well.
The initiative is not just about encouraging reading and literacy, Kozlowski said, but also building familiarity in the neighborhood, which she experienced herself five years ago when she erected her own literary watering hole in her Ferndale neighborhood.
"I got to know my neighbors. We got to talking about the books we each put in, but also about more than that, about life," she said. "It was a very powerful thing in my community."
Kozlowski helped organize the Little Libraries competition at the Michigan State Fair in Novi for the past two years, but this time she wanted to bring it into the city. The winners will be announced on Saturday, September 29, at the annual Light Up Livernois festival.
"It's just something I wanted to help bring to Detroit," she said. "Local artists have always been important to our city, and there's a real community of artists in Livernois. Not many people talk about the Avenue of Fashion, but there's a lot going on."
Mandisa Smith, a winner of the 2014 Knight Arts Challenge and co-owner of Detroit Fiber Works, located right in Livernois, is also organizing the event.
"For a lot of kids in this area, getting to the library regularly is just not conceivable," she said. Smith grew up just west of Livernois and now lives in the University District. "Reading is critical to our understanding of the world, of ourselves. It makes us all more empathetic."
Beyond reading, Smith hopes that the competition gets people down to Livernois to witness the renaissance of the neighborhood; there's a lot more happening than people think, she said.


"Most people don't know that anything is going on in Livernois, so we're really trying to get people out here to see all that's changing," Smith said, adding that Livernois has been witness to a hike in development recently.
Kozlowski and Smith rounded up artists through local circles in the neighborhood like the Detroit Fine Arts Breakfast Club, which meets weekly at Noni's Sherwood Grille on Livernois. But others, like abstract artist James Chism, stumbled upon the opportunity on Facebook.
"I think it's a really good thing for the community. Casual access to books is so important to people in Detroit, especially kids," said Chism, who hails from Chattanooga, Tennessee, but moved to Harper Woods in 2015. "Everybody has time and talent. It's our responsibility to share it to help the community."
Chism's little library is called Breaking Barriers, Smashing Ceilings. He said it's meant to imitate an abstract mosaic, and the fragments of color meant to reflect broken glass.
"It's an ode to people overcoming barriers, especially young girls smashing through that glass ceiling," he said. Chism, like many, feels Detroit is set for a prosperous resurgence, much like, he said, his hometown of Chattanooga. "The art community needs to lead the way. Art is what makes this city what it is."

If you're interested in stewarding one of the new little libraries at your home, business, church, school or elsewhere, contact Detroit Little Libraries at detroitlittlelibraries@gmail.com

William Feuer is a fall editorial intern at Metro Times.
Stay on top of Detroit news and views. Sign up for our weekly issue newsletter delivered each Wednesday.