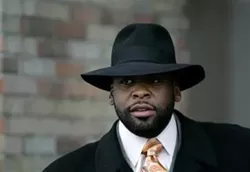 Facebook, Freedom and Justice Trust
Ex-Detroit mayor Kwame Kilpatrick.
The well-known podcast for covering crime and corruption, "Crimetown," is putting an emphasis on Detroit - and much of Kwame Kilpatrick's mayoral tenure in the city - for its second season. Detroit will be the follow-up to the first season which focused on crime in Providence, Rhode Island.

The show was co-created and co-hosted by Marc Smerling and Zac Stuart-Pontier. The New York Times claimed "Crimetown" to be one of the best new podcasts of 2016, when it originally aired.
Drew Nelles, the senior producer on the show, was interested
in following stories in Detroit because issues taking place in the city appear
to be most pertinent to Americans.
"As we started digging into the story, we realized it was really a story about a lot of issues that are in the forefront of people's minds right now: policing, the war on drugs, race, de-industrialization, corruption. There was just a lot swirling around that felt really resonant in a really exciting way," Nelles told the Detroit Free Press.
The second season of Crimetown begins with Detroit's controversial
police program STRESS, an acronym for Stop the Robberies, Enjoy Safe Streets, and ends with coverage of Kwame Kilpatrick's mayoral race and subsequent corruption scandals.

"All the racists used [Kwame] to justify their own prejudices," one commentator on the podcast's trailer says of the former Detroit mayor. "So he used the race card as a shield."
You can listen to the new season of "Crimetown" when it premieres on Spotify on October 1st.

Sam Corey is a Metro Times fall editorial intern.
Stay on top of Detroit news and views. Sign up for our weekly issue newsletter delivered each Wednesday.