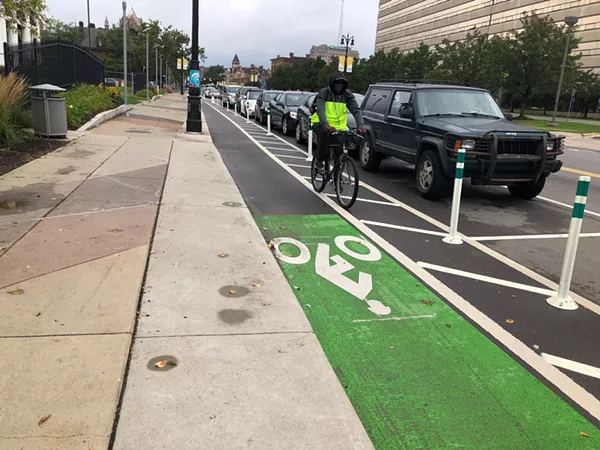 Devin Culham
A man using one of Detroit's bike lanes, which Keith Crain believes nobody uses.
Another column from Keith Crain is once again making the rounds on social media, with the
Crain's Detroit Business
head honcho doubling down on his distaste of what he calls the
"bikeification"
of the Motor City.
"This is an idea that was carried way too far, with no end in sight," Crain writes, unironically, in his column — a sequel to a June article that drew ire from bicyclists
far and wide
.
Chief among Crain's new set of concerns is Michigan's impending winter, which he believes will vindicate him.
"This project was a bad idea and a waste of taxpayers' money in the summer," he writes. "In the winter, it will become obvious what a mistake this project has been."
Yes, Crain is suggesting that our leaders somehow forgot about Michigan's brutal winters.
"If politicians thought that segments of the driving public were not happy with the waste of limited resources on bike lanes, then they should just wait until it becomes obvious that bikers have disappeared until springtime, some five or six months away," he says. "Meanwhile the stripes will remain, even when they're buried under snow." Apparently, Crain has never done the totally normal thing of riding a bike in the winter.
A communications advisor for Mayor Mike Duggan took to Twitter to assure the public that yes, it is possible to plow the bike lanes, and that the city intends to do so.
Absent from Crain's latest rant against the bike lanes is an acknowledgment of the surge in e-scooters in the city since he last wrote in June. This summer, ridesharing companies
Bird
and
Lime
deployed their smartphone-enabled scooter rentals in Detroit, with a third company,
Spin
, on the way. We can attest — using the bike lanes is
the safest way
to scoot down Detroit's streets.
Stay on top of Detroit news and views.
Sign up
for our weekly issue newsletter delivered each Wednesday.